As winter approaches it seems like all I want to eat is good, old-fashioned comfort food. Who can resist a big bowl of macaroni and cheese or fresh baked chocolate chip cookies on a cold day? Here are five of my favorite comfort foods.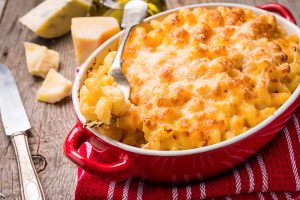 Macaroni and Cheese
I make my macaroni and cheese with leeks and dijon mustard. It adds a little something special to the basic recipe.
Ingredients:
¼ cup butter
3 ½ cups sliced leeks (white and green parts only)
¼ cup all purpose flour
3 ½ cups milk
16 ounces sharp cheddar cheese, grated
2 teaspoons dijon mustard
2 eggs
1 pound macaroni
Directions:
Preheat the oven to 400 degrees. Melt the butter in a heavy, large saucepan over medium heat. Add the leeks and stir to coat. Cover the saucepan and cook for 12 minutes, until the leeks are tender. Stir occasionally.
While the leeks cook, boil the pasta in a pot of salted water. Drain and return the pasta to the pot.
Add the flour to the leeks and stir for two minutes. Add the milk and bring to a simmer, stirring to ensure the flour gets mixed in. Add the cheese and mustard. Stir until the cheese is melted. Remove from heat.
Remove one cup of cheese sauce from the saucepan. Whisk the eggs in with the removed cheese sauce. Gradually add the mixture back to the saucepan, whisking the egg mixture in.
Pour the cheese sauce into the pot full of pasta. Pour into a buttered 15x10x2-inch baking dish. Bake for 25 to 30 minutes.
Adapted from "Baked Penne with Farmhouse Cheddar and Leeks" in Bon Appétit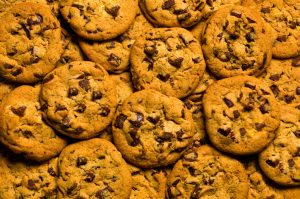 Chocolate Chip Cookies
If you like your chocolate chip cookies with nuts, try this version with coconut and almond slivers.
Ingredients:
1 cup butter
¾ cup sugar
¾ cup brown sugar
2 eggs
2 teaspoons vanilla extract
1 ¼ teaspoons almond extract
2 cups flour
1 teaspoon baking soda
¾ teaspoon salt
2 cups sweetened coconut flakes
1 package milk chocolate chips (11 ½ ounces)
1 ½ cups slivered almonds
Directions:
In a large bowl mix the butter and sugars until they are feathery. Mix in the eggs, vanilla, and almond extracts. Add the flour, baking soda, and salt. After the ingredients are fully mixed, slowly stir in the coconut, chocolate chips, and almonds.
Drop by rounded teaspoonfuls onto ungreased baking sheets. Bake at 375 degrees for 10 minutes.
Adapted from "Coconut Crunch Cookies" in Bon Appétit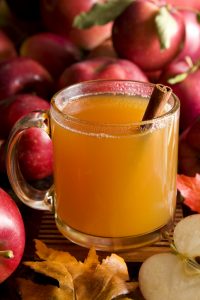 Apple Cider
Who doesn't like apple cider on a cold fall day?
Ingredients:
2 quarts of apple juice
4 cinnamon sticks or 1 tablespoon ground cinnamon
2 ½ teaspoons whole cloves or 1 ½ teaspoons ground cloves
½ teaspoon ground nutmeg
¼ teaspoon ground ginger
¼ teaspoon ground cardamom
⅛ teaspoon of allspice
¼ cup   ½ cup brown sugar
Directions:
Heat the apple juice in a large pot over medium-high heat. Add all the spices and ¼ cup sugar. Bring the mixture to simmer, then reduce the heat. Taste and add more sugar and spice as desired. Remove from heat, strain, and let the mixture cool.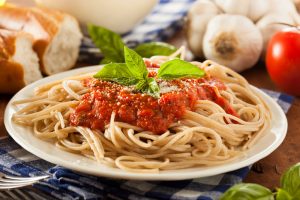 Spaghetti with Marinara Sauce
This is my favorite comfort food. I always go for seconds!
Ingredients:
1 pound cooked pasta
1 28-ounce can of tomato sauce
1 6-ounce can of tomato paste
2 fresh tomatoes, seeded and chopped into ½ inch cubes
1-2 cups red cooking wine
4 garlic cloves, minced or pressed
1 tablespoon basil
2 teaspoons thyme
2 teaspoons dried lavender
Directions:
Combine the tomato sauce, tomato paste, fresh tomatoes, cooking wine, garlic, thyme, and lavender in a large pot over medium-high heat. Bring to a boil, then reduce heat to simmer. Let simmer for 15-30 minutes, until flavors have combined. Serve over cooked pasta.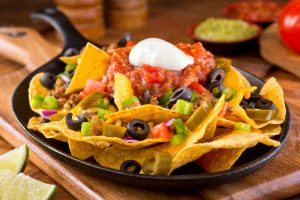 Nachos
Nachos can be a healthy comfort food. Load veggies on top of Spinny Chips and you have a great, low-calorie snack. The great thing about nachos is that you can use any mix of toppings that you want. Here are some of my favorite toppings:
Jack cheese
Black olives
Salsa
Guacamole
Sour cream
Refried beans
Shredded Lettuce
Cilantro
Rotisserie Chicken