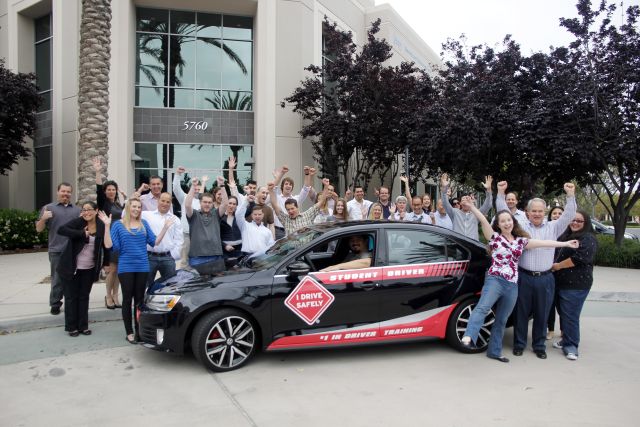 Every driver has made a mistake or two behind the wheel. Sometimes we get caught, and sometimes we just catch ourselves. Recently I DRIVE SAFELY kicked off a Teen Essay Contest, encouraging drivers to submit their accident or traffic ticket stories for a chance to win an iPad4. To get the ball rolling, and to prove we're all only human, a few brave staff members have shared their personal driving lessons with our readers.
Ben Arboleda, UI Designer
I would say my biggest lesson came from neither a ticket or an accident but from a situation that to this day I don't take for granted. The following incident took place around my mid 20s. I was driving home one Saturday afternoon right after participating in a six-hour long company golf tournament, right after coming home at 4 a.m. from heavy partying that Friday night. Needless to say I was exhausted and thought I could make the 15-minute drive home no problem. Heading south on I-5 somewhere around Del Mar I ended up falling asleep for what seemed to be a blink of an eye. As I my eyes popped open I looked up and saw that I was luckily still driving straight but noticed that I was splitting two lanes with cars in each lane. The people next to me on each side had this terrified look on their face. I immediately let off the gas and safely exited the freeway on Del Mar Heights. I pulled over in a gas station and took a two-hour nap.
Lesson learned: Don't play golf after a rave. Just kidding! If you're sleepy PULL OVER!
Sara Brown, Content Lead
I've been pretty lucky with traffic tickets and have been licensed in four states, so I have lots of knowledge regarding random traffic laws. In this case, being aware of my surroundings may have lessened the severity of my accident.
I was driving home from work and was signaling to exit the interstate. As I was moving onto the exit ramp, I could see the car behind me, not slowing down, getting closer. Luckily there was no one near the front or sides of my vehicle. I was able to maneuver to the far left of my lane, off the road and onto the grass, to avoid a full-speed direct hit. The other driver had fallen asleep at the wheel. He still hit me, and my car was nearly totaled, but being able to offset the impact to mostly the rear passenger side, I believe I was able to prevent more serious damages and injuries. I walked away with a few cuts from the broken glass and a stiff neck for a week, luckily nothing more.
Kym Drake, PR and Social Media Manager
Fortunately, and knock on wood, I have had one traffic ticket in my lifetime. And it took over two decades to happen! One day my husband and I planned a day off. We decided that each one of us would drop off a child at his and her respective school. On the drive back I saw my husband and I decided to catch up and blow him a kiss. Hey, it WAS our day off and I wanted to live a little.
Just as my speed hit around 50 MPH I spied a motorcycle cop hiding behind a tree on the middle island. He quickly followed me with lights flashing. I passed my husband and he flashed a "What the heck is happening?" expression. I explained my actions honestly to the police officer but he wasn't very happy about it. My husband pulled over too and tried to appeal to the officer but he wasn't interested. The fact remained that I was driving 50 MPH in a 35 zone. Lesson learned: Don't speed at any time—even to flirt with your husband!
Nolan Griswold, Marketing Intern
It was finals week of my junior year of high school at Cathedral Catholic. After school lets out, there are tons of accidents each year on Del Mar Heights Road. I never thought I was going to be one of them. Just after a hard day of finals, I was cruising towards the turn toward the freeway onramp with at least 100 feet between me and the next car.  Little did I know cars were trying to merge in front of me in order to get onto the freeway too. I glanced down at my iPod to pick a song and when I looked up I was colliding with the bumper of a merging Range Rover. This did little damage to their car, but totaled my Volvo right in time for summer to begin.  This has been my only accident so far, hopefully it's my last!
Jeanine Leder, SEO Marketing Manager
22 Years Old:  I was a school teacher and rushing to get to school. I got pulled over for doing 22 in a 20  (School zone).
Lesson learned: Cops enforce speed limits strictly in school zones (especially when you are a school teacher).
18 Years Old: I was working on Friday night as a bank teller. I balanced my drawer early and was excited to be finished with work by 8 p.m. on a Friday night and could spend time with my boyfriend.  I was speeding.  It was misty out and I decided to fly through a yellow light. Bam!  I broadsided a brand new Lincoln Mark VIII. The guy was driving it home from the dealership.  I called my dad who told me that I'd better get another job to pay for my car insurance!
Lesson Learned:  Treat misty air like rain and don't speed. And don't be in a rush to go visit your boyfriend!
Angel Leon, Marketing Intern
In early 2013 I was involved in a car accident. I was on the freeway on ramp just about to merge into traffic when my truck fishtailed, spun 180 degrees, and slammed into the guardrail. Apparently, the ramp is notorious for these types of incidents, especially during rainy seasons. Fortunately, no other vehicles were involved and I didn't suffer any serious injuries, just the normal jitters. I realized how lucky I was and definitely take the "Reduce speed" signs a lot more seriously now. Also, it helped me realize that maintenance on my truck is one of the keys to staying safe, so I always make sure to check out my brakes and tires regularly.
George Pfaff, Senior UX Engineer
I was rushing to catch a flight across the world's longest bridge: 23 miles across Lake Pontchartrain, north of New Orleans. Just when I was beginning to think I might make it, a state police cruiser appeared in my rear view mirror – its occupant looking none too happy.
I pulled over, politely handed over my documentation, and awaited my fate, pondering the impact. Little did I know! The officer appeared back at my window rather more quickly than I expected, and he delivered the really bad news. Apparently, Louisiana and California did not share an extradition agreement, and therefore I would be going to jail instead of getting a ticket!
Fortunately, he decided it was too much trouble and let me proceed, with my assurances that I would be more respectful of his state's traffic laws and posted limits. Close call and lesson learned.
Adam Sullivan, Marketing Copywriter
I got my license and fell in love with loud music at pretty much the same time. Because of this, the two went hand in hand. I love to just drive aimlessly around, blaring whatever new CD I'd just picked up.  I'd sing along, play air guitar, and occasionally drum the steering wheel. That last part is what got me in trouble.
Once I passed a police car at the precise moment an awesome drum solo kicked in. When the cop pulled me over a few blocks later, I believe it was out of genuine concern. "Son?" the officer asked. "Are you all right?"
Once he realized I wasn't having a stroke, he wrote up a well-deserved ticket for reckless driving. These days, I circumvent the problem by keeping the radio tuned to the easy listening station, where Phil Collins and Lionel Richie keep me a bit more grounded.
David Zimmerle, Marketing Copywriter
I was 21 and going headlong into my senior year of college in San Francisco. Things were going swimmingly until one day in mid-September a couple of my friends asked if I could drive us all downtown from Richmond to get burritos at a popular taqueria. Fifteen minutes later, I'm heading north on a busy one way street during rush hour, and in position to make a left turn from the second to left lane toward the burrito joint. What I didn't realize was the far left lane was closed to parking and open to through traffic. BOOM! A Honda Civic broadsides my Volvo and sent us spinning into several corner newsstands. It was a spectacle; papers were flying everywhere. Thankfully, no one was injured.
Lesson learned: Pay attention to all traffic/parking signs with an eagle eye. Had I done that, I would have noticed that parking in the far left lane was closed from 4-6 p.m. Monday through Friday.
Yikes, after all these stories, it sounds like most of our staff could make valuable use of our suite of defensive driving and traffic school courses.