Hungry for a good pizza… and a good laugh? Domino's Pizza's new talking delivery scooters will give you both!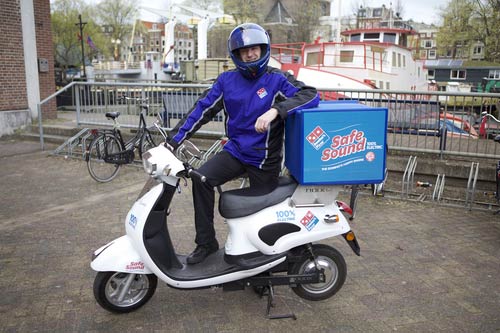 In Amsterdam, Domino's Pizza has come up with a brilliant way to make their quiet electric-powered delivery scooters more pedestrian-friendly… and get some awesome advertising in the process.
Through a campaign to increase road safety in the famously cyclist- and pedestrian-dominated city, the pizza company installed a voice on their scooters which mimics the sound of an engine by repeating "Domino's, Domino's, Domino's," alerting fellow commuters of its presence. Every once in a while, the scooter will also shout out a "Pizza!" just for good measure.
Watch as Domino's unleashes a genius marketing tactic… and unsuspecting passersby get a really good laugh.