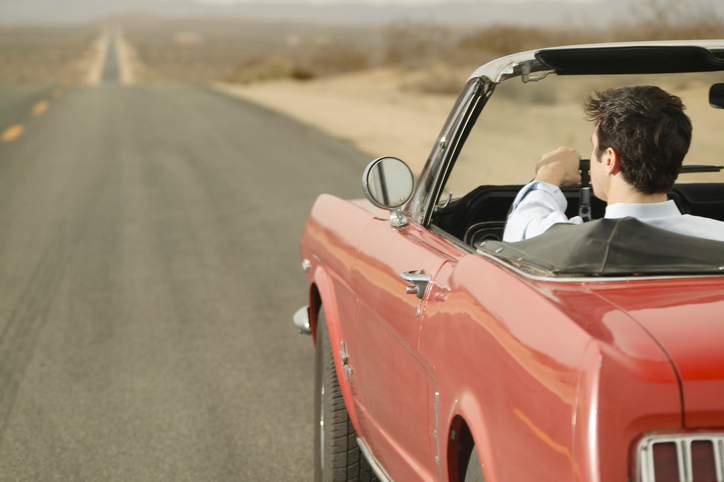 Okay, you're young, you just got your license, and the world feels like your oyster. Your boundaries have expanded – no longer are you confined to your hometown. Like most teens, you probably have that itch to go out and do something, see something, experience something beyond the familiar. It's time for your first road trip.
The first rule of a successful road trip is, of course, that there are no rules. But here are some guidelines that will help you have a fun – and safe – journey.
1: Pick a Destination.
Are you going to cross state lines to check out Bonnaroo? Make a pilgrimage to the world's largest rubber band ball? Whatever you decide isn't even that important. Just pick a path and head out on the open road. You'll soon discover that it's the journey that makes the road trip, not the destination.
2:  Stock the Car.
Full tank of gas? Check. Epic 12-hour playlist with no repeats, not even "Freebird?" Check. A couple of pals? Check.
That's all you really need, but there are some other things that can make things a little easier:
Money: It makes the world go 'round, like it or not. It's a good idea to bring more money than you intend to spend, because you never know what's around the corner. Could be a flat tire. Could be adding another day to your trip to catch the next Phish concert. Either way, some backup cash can be your best friend should plans change mid-trip.
A Map: Granted, you may want to take the "off the beaten path" route once in a while, but it's also likely that you'll – at some point – want to get to a specific place. Your car's GPS or your phone will do the trick nicely, which brings us to…
The Internet: Need to find a coffee shop in Kalamazoo? Looking up Spanish words in Ensenada? Full cell phone bars and an unlimited plan can help you do anything from finding a cheap hotel to locating the best BBQ eatery in Fort Worth, Texas.
3: Don't Tempt Fate
Just because you're heading out on an adventure doesn't mean you should do foolish things. If you're driving, keep your phone in your pocket. If the passengers are being too rowdy, ask them to tone it down. And if you're tired, let someone else take the wheel. Let the adventure come to you.
4: Throw Away Any Expectations
If you never make it to that rubber band ball, it's okay. If you don't finish the epic playlist, who cares?*
Rest assured there will be bumps on the road – both literally and figuratively. Along the way you will learn a lot about yourself – and the people you travel with – simply by dealing with the uncertainty of the open road. Don't get bent out of shape if plans go awry. On a good road trip, that's what plans are supposed to do.
Think of it this way: You decide to drive to the Space Needle in Seattle, and you do exactly that. And then you come home. That's a terrible road trip. That's grocery shopping. That's a dentist appointment. There's nothing quite as boring as a well-executed plan.
So go do something new. Have a good time. And come back with a story to tell. That's a good road trip.
And when you get back – set a date for your next one.
*You do have to have an epic "Tiny Dancer" sing-along, though. That's mandatory.