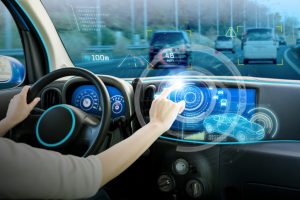 With all of the gadgets and gizmos that automakers are tossing into their latest models nowadays (self-driving cars, anyone?), it was only a matter of time before someone decided to create a car that, put quite simply, reads your mind.
Some major car companies are developing vehicle technology that actually measures your brainwaves to determine your level of attention behind the wheel. The purpose behind these diagnostics is to prevent a number of hazardous situations caused by our physical state when driving – drowsiness, anxiety, road rage, and illness are the main culprits behind many avoidable accidents. The thought is that if your car can help detect when you're too sleepy to drive, or when you're getting angry while on the road, it will be able to call your attention to these factors so that you can correct them expediently.
Technology in Motion
How does it all work, you ask?
There are various ideas on how to implement this technology, but the most common ones all follow a similar thread. Electrodes embedded into the back of the driver's seat take measurements of your heart beat, while sensors installed in the steering wheel monitor your pulse and levels of sweat. A dashboard camera can track facial movements to determine levels of alertness, while other sensors in the seat and seatbelts can analyze changes in breathing and blood sugar, in case a driver is in danger of passing out behind the wheel.
All of these elements, when triggered, would cause some sort of alarm or alert to sound, calling your attention to whatever it is you're suffering from. Lexus and Mercedes, for example, have installed cameras in their cars to monitor drowsy-driving behavior, which warn the driver with either an electronic beep or a flashing coffee cup icon to suggest that the driver pull over and take a rest or refresh themselves.
Other possible features in the works are automatic hazard prevention triggers. This means that if the car senses an imminent threat in the driver's behaviors, automatic safety measures will go into place, including tapping of the breaks, turning off the radio, or even blocking a cell phone from ringing.
"Big Three" automaker Ford is also jumping onto the biometric bandwagon – it has been developing sensors for its built-in Driver Assistance program that are based on radars and cameras all throughout the car, including heart rate monitors built into the seat belts. The data collected from the biometric systems would also be analyzed alongside physical data from the car – including the speed at which it's being driven, and the motions of the steering wheel, among others – to determine how stressed or alert a driver may be.
How Could This Technology Help?
While any driver could likely benefit from a car being able to tell if they aren't in the greatest shape to drive, this technology is especially pertinent for teen and senior drivers, and those of us who regularly fall victim to distracted driving. Teens have not yet gained the experience to assess how their cognitive state can affect their abilities behind the wheel, and seniors often lose their ability to self-monitor their driving skills and safety. Similarly, drivers who are constantly distracted are more likely to cause a crash than any other type of driver out on the roads.
By implementing these technologies into a car's standard features, engineers and lawmakers hope to reduce the amount of accidents that are caused by emotional or physical ailments, many of which we don't even realize we suffer from while driving. And if we DO make the conscious choice to get behind the wheel when we're not at our peak performance level, our cars will know better. Another goal is to bring down the rate of distracted driving significantly. After all, you can't text and drive if your car won't let you!
What do you think? Are these types of technologies the latest breakthrough in helping us drive more safely? Or is this just one more invasion of our driving independence?