Win a $10,000 scholarship to the school of your choice – simply by keeping your paws off your phone!
We all know that texting and driving is dangerous, but did you know that sending one text message while driving at 55 MPH will take your eyes off the road for the length of an entire football field? That's some serious danger! DoSomething.org has teamed up with Sprint and Toyota to create a fun, silly, and altogether awesome way to raise awareness and support this cause. The solution: Thumb Wars!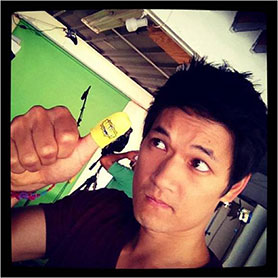 No, you won't be participating in a thumb wars tournament (although you could if you want to!). People 13 – 25 years can sign up for the campaign and receive a FREE pair of thumb socks that make it impossible to text message. You can wear them while you drive, or place them in a friend or parent's car that is a little too text-happy on the roads. Some of their crazy ideas include hiding them in the glove compartment, putting them in their cereal (um, yum?), and any other wacky way you can think of to draw awareness to the growing problem. So far, over 62,000 people are participating in the campaign! Even Harry Shum Jr., star of FOX's "Glee," is ready to put his thumbs on the line for a good cause.
Take a picture of yourself and/or your friends using the socks in a creative way (like Harry over there), and send them to DoSomething.org for a chance to win a $10,000 scholarship for school! That's a LOT of money just for being a safe driver (and wacky photographer). But hurry the campaign ends on August 2, 2012!
You can also send the campaign to 5 friends to enter the scholarship contest as well. Check out some photos of current participants in the campaign gallery for some inspiration! To sign up for Thumb Wars or to learn more, visit DoSomething.org's campaign page…and put an end to texting and driving!
Check out this video of Harry Shum Jr supporting Thumb Wars!