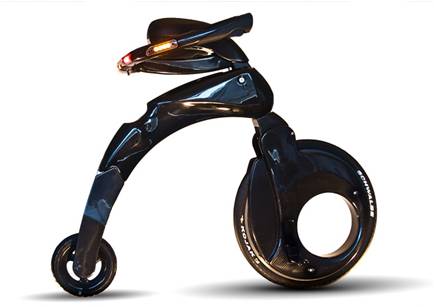 A few weeks ago we shared a YouTube video about the Yike Bike with you. We got such a great response from that video we felt a follow-up was in order. Our Social Media guru contacted Kent from Zone Performance Wear, who is the exclusive Yike Bike dealer here in San Diego, CA. Being the fun kind of team that we are at I DRIVE SAFELY, we went for a test drive.
As you can see from our iPhone video, you'll start out rather wobbly when you first get on the Yike Bike, but after only a couple minutes you learn to balance and the urban marvel becomes very easy to control. It's much easier than learning to ride a conventional bike, if that puts it in better perspective.
What I like most about the Yike Bike is its portability. Adjust a few levers, fold a couple components and you can pick the thing up, sling it on your shoulder and be on your way by foot. And at only 24 lbs, it weighs less than a typical French Bulldog. That means the Yike Bike will not only get you where you need to go in style, but it will also go with you where other modes of transportation have never gone before.
Check out the I DRIVE SAFELY test drive of the Yike Bike below and don't forget to share this with your friends.