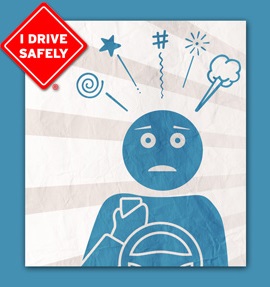 Did you know that texting takes your eyes off the road for an average of 4.6 seconds? At 55 MPH, that's like driving an entire football field blindfolded! We know learning how to drive is a huge challenge for teens. And we want to ensure they develop the proper safe driving habits right off the bat. That's why I Drive Safely recently launched a Distracted Driving public awareness campaign by kicking it off with an effort just for teens: The 'Watch Out Loud' Teen Video Contest on Facebook.
What is the 'Watch Out Loud' Video Contest?
I Drive Safely's "Watch Out Loud" teen video contest on Facebook is a chance for teens to get as creative as they can behind a video camera to educate their fellow teenage drivers about the importance of not driving distracted.
Who Can Enter?
Teens ages 15 to 19 attending either a middle school, high school or college.
What You Can Win
1st Prize Winner: GoPro Camera and accessories for the contestant and $2,500 for his or her school's audio/visual arts program
Runner-Up: $200 Amazon Gift Card for the contestant and $1,000 for his or her school's audio/visual arts program
Honorable Mention: $100 Amazon Gift Card and $1,000 for his or her school's audio/visual arts program
2013 Contest Timeline
Oct. 21 – Nov. 22
Video entries accepted on Facebook
Click here for registration forms and sign and e-mail them to: contest@idrivesafely.com or mail them to I Drive Safely, LLC, Attn: Teen Video Contest, 5760 Fleet Street, Suite 200, Carlsbad, Ca. 92008 or fax to: 760-692-3226. (Parent's signature required if under 18).
Nov. 23 to Dec. 6
"People's Choice" voting for top three videos
Dec. 10
Top three videos announced
Judging Criteria:  Voting is open to the general public and winners are determined by "people's choice" voting. "People's choice" judges will base their decision on the following three criteria:
1. The Originality and Creativity of the Video – How creative is this video in delivering the concept/message about the dangers of distracted driving?
2. The Concept and Information Communicated In the Video – Does the video effectively communicate the concept or message that distracted driving is dangerous?
3. The Impact and Motivation of the Video – Does this video motivate people to be more safety conscious and discourage distracted driving?
How to Enter the Contest
Step 1: Visit the Contest on Facebook and follow the instructions to submit your entry. You must have a Facebook account to enter from this site. If you do not have a Facebook account, you can sign up for an account for free at www.facebook.com.
Step 2: Create an original video not to exceed two minutes in length, discouraging teen drivers from driving distracted.
Step 3: Upload your video during the contest period to the website and ensure that the video remains viewable on the website during the remaining portion of the contest period. Videos must be uploaded to the website and must be available for I Drive Safely to access freely (without a password or any other restrictions). Entrants should keep at least one copy of their video. I Drive Safely is not responsible for any videos that are lost, damaged, or that do not upload properly.
Step 4: Complete the following forms:
One Official Entry Form completed by the entrant (and signed by parent/guardian for entrants under 18). You will need to review and accept the Official Rules as part of the Official Entry Form.
One Appearance Release Form completed and signed by each individual whose image or voice is used in the video indicating permission for such has been granted to the entrant (and a parent/guardian signature for individuals under 18).
 One Photo Consent/Release Form requiring a parent's signature to grant permission for I Drive Safely to use Entrant's (under age 18) photo in connection with their participation in the Contest.
Step 5: Please submit your forms via one of the following ways: emailed to: contest@idrivesafely.com; faxed to: 760-692-3226 Attn: Teen Video Contest; or mailed to: I Drive Safely, LLC Attn: Teen Video Contest, 5760 Fleet Street, Ste. 210, Carlsbad, CA 92008.
For more detailed information about the contest guidelines, please view the "Watch Out Loud" Contest Rules.
Creating Your Video: Tips and Tricks
Not a professional videographer yet? Don't worry! Even the most inexperienced videographer can create a compelling video. Start big by thinking about an overall concept that communicates your message about why driving distracted is dangerous–then add your own twist. Is it a serious, funny, or ironic video? Is it animated? Is it narrated? Will you add music or sounds to the background? The sky's the limit.
Whatever you do, just ensure that you are making a statement to teens across the nation that distracted driving is dangerous and involves so much more than just texting while driving. For a comprehensive list of what is considered to be distracted driving, view our Distracted Driving Fact Sheet.
Be Safe!
At I DRIVE SAFELY, our number one priority is…ensuring people are safe on the road! In fact, that's why we created this contest—so that we could help discourage teen drivers from driving distracted. So PLEASE be careful when making your video. Here are some tips for safe filming:
NEVER film at the same time you are driving. It's a form of distracted driving!
Follow all legal road safety rules while driving for filming purposes.
NEVER set up a shoot on ground-level in front of a moving vehicle.
NEVER hang out of a car window.
NEVER climb on top of unstable structures or buildings to get a high-angle view.
Use common sense to ensure you are not jeopardizing the safety of you or your friends or family members.
Plan Your Shoot
1. The first thing you will need to create is a script. Write down the dialogue you want your characters to say. Next, describe the visuals that will take place during each scene and the camera angles for each shot.
2. Location: Think about where you will shoot your video. Will it be inside or outside? Will you need special permission to access the area? Is the location safe?
Map Out Your Story
You  will want to create a storyboard for each scene. That means creating a simple visual outlining what each scene will look like. Your sketches don't have to be fancy; just make sure you sketch out what each shot in each scene will look like.
What Is Your Timeline?
Create a schedule for filming your project. You have roughly a month from the opening of the contest until the submission deadline, so plan carefully!
Remember to Get Permission
If you will be filming on someone else's property, you will need their permission first. And remember, anyone who appears in your video and can be recognized will need to sign a Appearance Release Form. If they are under age 18, their parents will need to sign the form too.
Saving Your Video
The following video formats are supported for the contest: AVI, MOV, WMV, MP4, MPEG, FLV, 3GP, 3G2. We cannot accept files larger than 100 MB.
Please remember to save an original master copy of your video on a data DVD or upload it to a website from which it can be downloaded by us later. Remember, if you're a winner we'll need this copy so that we can highlight it to the general public and utilize it to spread the word about the dangers of distracted driving!
What's Your Topic?
Texting is the most prevalent form of distracted driving, but there are many other forms of distracted driving that need to be brought to the attention of teen drivers. Check out our Distracted Driving Fact Sheet and see if there is a specific type of distracted driving you would like to highlight – or maybe you would like to feature multiple types. Once you have chosen your theme, decide how you will present your information. Will it be from the perspective of one person or a group? Will there be voice-over narration to emphasize your point? The project is yours to create!
Sometimes the best inspiration comes from a personal experience. More than anything though, make sure your video will make an impact on the safety of teens. This is a great chance to make a difference!
Tips for Shooting and Editing Your Video
Need some basic tips for shooting your video? Check out these Top Ten Tips for Shooting Better Video  from teachers' domain or Vimeo's Video 101: Shooting Basics to help you out.
And you can't forget the editing stage. This is where it all comes together. Vimeo lays out the basics in Video 101: Editing Basics.
So now we're turning you loose! Think of a great concept that teen drivers will respond to and help them remember to not drive distracted. Do an awesome job at filming and editing your creation, and enter your video on Facebook between Oct. 21, 2013 and Nov. 22, 2013. Best of luck!