These days there's an app for just about everything we do, so I wanted to share a few apps I use most in my car. I know your time is valuable so I'm just going to go over the basics of each app. If you'd like more information, just click the links below.
1. Pandora
I don't know what I would do without Pandora in my car. It's a great app, and it's really user-friendly. Just download the app from your favorite source, then launch the app and create a station. To do this you simply click "New Station" and input the name of your favorite artist. Pandora will do the rest, automatically playing songs from your station and then playing other artists and songs that have a similar style. It's kinda like Six Degrees of Kevin Bacon, but with music. It's really amazing what Pandora will suggest for you.
You'll have to listen to some ads in between songs with their free version or you can upgrade to a premium version with no ads for $36 per year. I'm really tempted to upgrade, but too cheap right now.
Studies have shown that music can relieve stress while driving, so by all means turn up the dial before you put the pedal to the metal.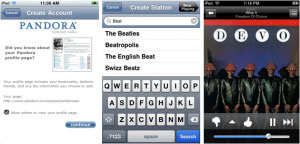 Requirements:
Smart phone with data plan (unlimited is best)
Pandora App
Auxiliary input jack on your car stereo, or an FM transmitter, or if you have an iPhone, the nifty little holder featured below.
2. TomTom USA
If you don't have a dedicated GPS device but you do have a smart phone and you want GPS, you're in luck. There are many GPS options available for smart phones, and some are cheaper or even free, but I love the $40 TomTom app and I believe it's well worth the money.
I'm a NOOB when it comes to GPS so I'll keep the technical babble to a minimum. Basically this app does everything a dedicated GPS device can do. It recommends points of interest, gives you turn by turn directions, and has a cool music fading feature which smoothly pauses your music when directions are being given, then when the GPS voice stops speaking your music resumes. And get this! You can even set your TomTom App to use Homer Simpson's voice.
I wonder if it says "Doh" when you make a wrong turn. Now that would be sweet. Woo Hoo!
TomTom also offers an optional Traffic feature which determines your least congested path to your destination. I haven't tried this yet, but it sounds pretty promising for the extra $20. If you have an iPhone I highly recommend the optional TomTom Car Kit for iPhone. I've used lots of holders/cradles ( whatever you want to call them) and this is not only the best cradle I've found for the iPhone (it works for all of them), but it also has a built in hands-free Bluetooth speaker and a GPS signal booster. This unit retails for just under $100, but do a little searching and you can find it a lot cheaper online.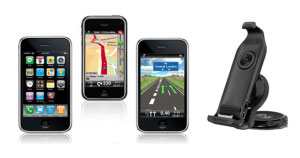 Requirements
Smart Phone (iPhone if you want to use the Car Kit)
TomTom USA App
A vehicle that runs
3. DMV Mobile Practice Test from I DRIVE SAFELY
Need to get your license or simply brush up on the rules of the road? Then try one of our new Mobile Practice Tests. These tests are available in a 50 question and 100 question format. I DRIVE SAFELY Mobile Practice Tests are ideal for helping you study for your Learners Permit, Drivers License, Motorcycle Drivers License or Commercial Drivers License. Now you can study anywhere you want, anytime you want!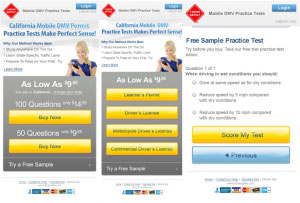 So there you go. Those are the 3 apps that I can't live drive without. Do you have a favorite app when you're on the road? Post it in the comments section below and maybe we'll feature it next time.