In cities across the U.S., Canada, and parts of Europe, a new method of easy and ecological travel is taking over the streets. Daimler's all-electric car2go program lets you hop into an Electric Drive Smart™ Fortwo at a moment's notice, drive it for as long as you need, and drop it off – and it only costs you a few bucks a day. Begun in Ulm, Germany and Austin, Texas in 2009, the program gained popularity and spread to large urban areas including Amsterdam, Vancouver, and San Diego, and it continues to see promising success.
Here's how it works: the electric cars are stationed around the city, fully charged and ready to go. You can book a car in advance on their website, or grab one spontaneously off the street. There's no time or distance limit, and no specific return location; simply take the car for as long as you need it, and drop it back off anywhere within its designated operating area (for instance, in San Diego you may drop it off at a car2go station, OR any metered parking spot – for free!). Prices are affordable, with rates as low as $0.35 per minute, $12.99 per hour, and $65.99 per day for U.S. cities, making it incredibly convenient for tourists who need to get around town, or locals taking a day trip or a quick run to the grocery store.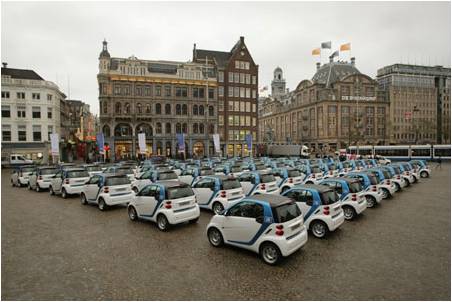 The car2go program increases urban mobility while decreasing the toxic footprint left by an overabundance of vehicles in city areas. These 100%-electric cars produce zero emissions, and include a GPS navigation system, a touch-screen computer, and a 24/7 emergency call center. Plus, the car is cleaned and charged after every use. For urban dwellers who don't typically have a need for a vehicle, the car2go program is the practical and eco-friendly solution for those times in which they do!