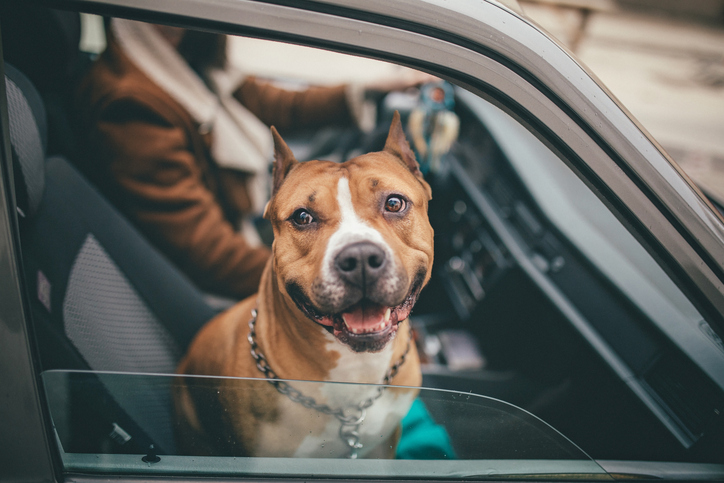 We all love to pamper our pets. And while buying our favorite furry friends expensive leather collars, fancy micro-suede beds, and designer dog food seems perfectly natural, for some reason buckling them up before we take them for a car ride isn't at the top of our pet-protection list.
Traveling with your pet unrestrained might be more dangerous than you think. According to the pet-safety website Be Smart Ride Safe, a 60-pound dog can act like a 2,700 pound projectile, even your car is moving at only 35 MPH.  While you might feel safe knowing your car has built-in safety features like air bags and headrests, you should remember that these are designed for humans — not pets. If your pet is on your lap and an airbag deploys, they could be seriously harmed — or worse.
Lately the emphasis on "distracted driving" seems to be linked exclusively to texting or calling while behind the wheel. What makes these distractions so dangerous is that they require you to take your attention off the road and your hands off the wheel. A free-roaming pet can easily create a hazardous distraction. According to the AAA Foundation for Traffic Safety , your risk of being in an accident doubles when you take your eyes off the road for just 2 seconds. Turning to pet your dog, tell him to lie down, or just admire his adorableness could all put you both of you in danger.  And what about when your dog jumps from seat to seat, or barks at a passing car? All of these scenarios create risky distractions.
Currently, only 8 states have laws that require minimal pet restraint, and most of these apply to pets traveling in open areas like truck beds. In fact, more states (14 to be exact) have laws forbidding owners from leaving their pets in a vehicle unattended.
The laws that do exist range in type of violation and how they are enforced. While Hawaii is the only state that explicitly forbids driving with a dog in your lap, Arizona, Connecticut, and Maine drivers can be ticketed under those states' distracted driving laws if they are caught doing the same. And New Jersey law gives NJSPCA officers the ability to stop a driver if they believe they are traveling with their pet in an improper manner. The cost for this ticket can run $250-$1,000.
There is another factor to keep in mind the next time you pull away from the curb with your pet in your lap. If you are in an accident, how will your pet fare? An unrestrained pet can be ejected from a vehicle and seriously injured, or worse. In addition, an injured dog could jeopardize your chances of getting the medical attention you need. A scared pet could be protective of its owner, preventing emergency service providers from doing their jobs properly.
So what should a responsible pet owner do? Even if your state law doesn't require it, you could look into using a seat belt or other safe driving options for traveling with your four-legged friend. Or, for those with especially active pets, you might want to consider a comfortable carrier or crate in the back of your vehicle. For more information on safe ways to travel with your pet, check out our detailed list of options here.