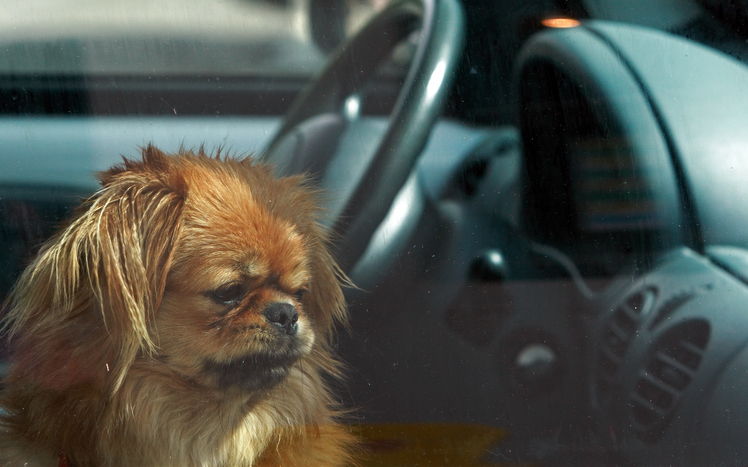 Summer's officially here. If you're lucky, that means plenty of playtime. However, if you're planning to share your summer with your four-legged friend, you might want to think again. Leaving your pet in a parked car on a hot day can be deadly.
Dog in Heat
Think of your car as a mobile oven. On a hot day, even parking your vehicle in the shade can't prevent the temp from rising. According to People for the Ethical Treatment of Animals (PETA), "On a 78-degree day, the temperature inside a parked car can soar to between 100 and 120 degrees in just minutes, and on a 90-degree day, the interior temperature can reach as high as 160 degrees in less than 10 minutes."
Why It's So Dangerous
Ever tried wearing a fur coat in 90-degree weather? You'd be drenched in sweat in seconds. When humans are faced with high temperatures, we have the ability to cool ourselves by sweating. It's not pretty, but it does the job. Dogs on the other hand don't have this luxury. Panting and sweating through their paws are their only physical abilities to regulate their temperature. If a dog gets too hot, they can suffer heat stroke or brain damage in just 15 minutes.
Warning Signs to Watch For
No matter how well you think you can communicate with your pet, they cannot talk to you. So rather than waiting for them to tell you they're suffering, you need to be aware of the signs that they're in danger. The Humane Society of the United States has published a pamphlet with details on what you can look for, including:
Heavy panting
Glazed eyes
Rapid pulse
Restlessness
A staggering gait
Vomiting
A deep red or purple tongue
If your furry friend is showing any of the signs above, immediately get them to a cooler location. Offer him water. If possible, start to lower his body temperature gradually by putting him in a cool (not cold) bath or getting his body wet with cool water.  Apply cool towels to the back of his neck.
Is it a Crime?
Across the nation, the specific crime of leaving a pet in a hot car varies. Yet already this summer numerous arrests have been made and charges of animal cruelty have been filed against pet owners who have put their dog in danger by leaving them in a vehicle unattended in hot weather.
While a conscientious pet owner may think it appalling to leave their best friend in a locked vehicle, only 14 states have actual laws against it. The condition with these laws is the pet's health or life must be in danger by the act. Punishment ranges from a small fine to a misdemeanor. Regardless of the legality, it is indisputable that the risks of leaving your pet in a car, especially on a hot day, outweigh any possible pleasure you might get from taking them along for the ride.
Keeping your pet safe is just one factor in being a safe and responsible driver. Read more tips on traveling with your pet and pet safety on The Express Lane.