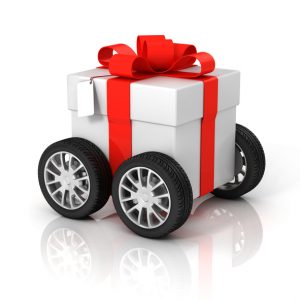 I've never given, or received, a car as a gift. Sorry, Lexus. Sure, it's a nice idea, but it's not realistic for most of us. Instead, try our list of fun (and mostly affordable) gift suggestions for every type of driver on your list.
The Sports Fan
From key chains to window decals, help your friend or family member show their team spirit with an awesome auto accessory. Surprise them by applying a giant decal to their rear window or adding a frame to their license plate. There're plenty of excellent tailgating items out there, too, that they can use on, in, or around their car!
Directionally-Challenged
Keep your loved ones from getting lost when you wrap up a Garmin or TomTom GPS. With a range of prices and functionalities, you can get them a basic model to help maneuver around town, or enough maps to navigate across North America and Mexico!
Mr. or Mrs. Messy
I'm terrible about washing my car. And just forget about anything fancy like shampooing the upholstery or polishing the dash! Whether you want to give a basic wash or spoil them with the works, you can be sure an auto detail gift card will put a smile on any driver's face.
If your loved one has trouble keeping everything in its place, try an interior organizer. They can hang one on the back of a seat for kids or passengers to access essentials, or use something like the High Road Auto Cargo Tote to keep a trunk or hatch area tidy.
And for the pet lover on your list, how about some seat covers? Help them protect their interior and keep their pet safe at the same time.
Experience what it feels like to really race your car.
The Lead Foot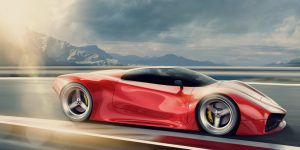 We all have that friend or family member who likes to think they're racing for the checkered flag. So why not keep them away from a pricy traffic ticket and give them the chance to drive like a racecar driver for real? Try a gift certificate to a real racing school like Skip Barber Racing School or the Dale Jarrett Racing Adventure. Whether they want to try open wheel or hug the curves in a high-performance luxury car, these schools offer a chance to see what racing is really like.
If they still have the speed bug, you might want to consider investing in a Radar Detector. Or, there's always a gift certificate to I Drive Safely online traffic school, just in case!
The Safety-Minded
When it comes to cars and driving, there are plenty of gadgets and gear to be had. A great little item that can come in handy and costs under 20 bucks is a dual tire gauge/emergency hammer. You never know when they're going to need to check their tire pressure or… hammer something. Know someone who hasn't embraced the hands-free law yet? Try a Bluetooth wireless headset for their cell phone. There are plenty of models out there to suit any style and budget.
Want to make sure they're safe anytime, anywhere? Try a roadside emergency kit complete with jumper cables, safety triangles, flashlights and more. Or, to ensure they get help when they need it, a membership to AAA is a great safety bet.
The Driver Who Has Everything
For the car lover who's impossible to buy for, why not spoil them with a lovely coffee table book filled with car history and tasteful photography? If they're a muscle car fan, try Car and Driver's American Road Warriors: Classic Muscle Cars. Or if they just like to admire the artistry of the automobile, they might love Curves of Steel: Streamlined Automobile Design shot by Michael Furman and edited by Jonathan A. Stein. Of course, there's always my personal favorite car-themed book, Stephen King's Christine.
Not a reader? Why not give them a Ferrari-shaped computer mouse! Or air fresheners that'll make their car smell like bacon or mac and cheese? Delicious!
When All Else Fails….
Give a gift card worth a tank of gas … or more! With gas prices out of control, anyone would love a free fill up!