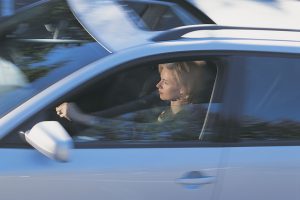 It's kind of an existential thing: you're sitting still, fastened in place, and you have a continuous task to perform. There's no exit, no alternative – you're stuck there for the time being. Is it really better to try to do something instead of nothing?
Let's take a lesson from the philosophers on this one: no excuses. Americans spend an average of an hour a day commuting, which represents about an eighth of your life if you factor out work and sleep. That's a lot of time to give up on, and a lot of opportunity lost if you don't make an effort to enjoy and enrich yourself.
But don't worry: It's not homework, it's mindfulness. The idea is to make you feel more relaxed, not less. Depending on your interests and temperament, you should develop some commuting habits that loosen you up for (and from) work – making your weekdays a lot more fun to get through.
Here are some suggestions:
Organize Your Thoughts
It can be helpful to your peace-of-mind to think carefully about what you'll be doing next. Try to picture your schedule and decide what to do first. Work through your day in your mind with as much detail as you can. It'll have a calming effect both in the moment and throughout the day, easing shocks and focusing your attention.
Do Some Breathing Exercises
Closed eyes, the lotus position, and 'Om's might be out, but there's plenty you can do to relax your body even when you're in the car. Slow, deep, considered breaths will go a long way towards reducing the anxiety of being stuck in traffic.
Sing
Come on, no one can hear you – and you were killing it in the shower this morning! Why not practice your karaoke favorites while you're on the road? It'll perk you up on the way to work and help you unwind on the way back. Try 'Life is a Highway', or 'Drive My Car' – 'King of the Road' if you're a whistler. Or, you know…other, non-car related songs.
Listen to Music
This might be old hat, but think about diversifying if you haven't already. The radio gives you pretty narrow choices, not to mention commercials. Why not pick up that jazz box set you've been meaning to get to? Or work your way through the classics? You've got ample time during your commute to become a music maven of the highest order.
Listen to Audiobooks
This being the digital age, any book you've always meant to read but haven't found the time to can be read to you while you drive. Consider digging in to the classics – it's never been easier. You'll have plenty of time to get through even the longest books, and you won't even have to take your eyes off the road.
Whatever you choose to do on your commute, stay relaxed and stay focused. It's a good time to get your head together – and a bad time to let it scatter.