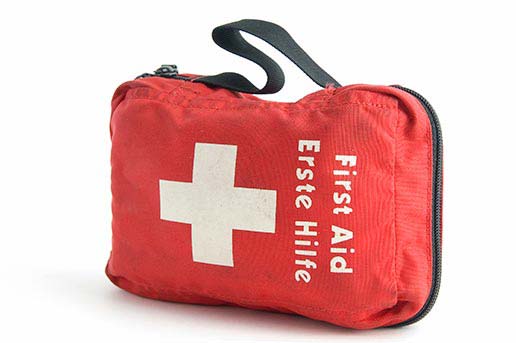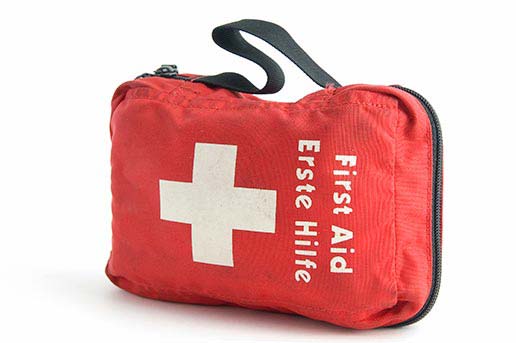 A first aid kit is an important part of a car emergency kit
Emergency Kit for Cars 
No one wants to think about getting into car accidents or running into mechanical problems while they're on the road – but the fact is, these issues are a reality for most drivers. That's why it's important to always have a backup plan, in the form of an emergency kit for your car. An emergency kit is something you should store in your vehicle at all times, so that no matter what happens, you're prepared.
What Do I Need to Include in My Kit?
There are several items that you should keep in your emergency kit year-round, and some that can be added during certain seasons, like winter.
The basic supplies you should store in your vehicle's emergency kit are:
A flashlight (and extra batteries)
Jumper cables
A blanket
Safety flares/warning triangles/traffic cones (or all three!)
Cell phone charger
Duct tape
Drinking water
Nonperishable food
First aid kit
Tool kit (screwdriver, car jack, etc.)
Extra fluids for your vehicle (motor oil, brake fluid, etc.)
Keeping other forms of storage (like Ziploc bags, trash bags, empty cans for oil, etc.) in your car can prove useful too, and can be multifunctional.
Items to add for winter:
A snow shovel
Cat litter (to use as traction for tires)
An ice scraper
Extra blankets
Warm clothes (including gloves, jackets, a hat, etc.)
Items to add for summer:
Spare antifreeze
Sunscreen
Extra towels
Car window shades
Insect repellent, if you live in a hot, humid place
What Should I Store My Emergency Items In?
This is a matter of personal preference. Some drivers choose to use a duffel bag, while others prefer a plastic box or container. A hard container can better protect items, but a duffel bag or backpack can be easier to move, and can serve multiple functions. But again, it all depends on your situation: how much space you have in your car, which items you will be storing, etc.
Where Should I Store My Kit?
Generally, the trunk is a good place to store all of your emergency items. However, if you are rear-ended or find yourself otherwise unable to get to your trunk, you'll be out of luck. If you have enough room to keep your emergency kit in the car with you (on the floor in the back row, underneath a car seat, etc.) you could benefit from easy access to all your supplies. No matter where you decide to put your car kit, you'll want to consider tying it down so it doesn't go sliding all over the place as you drive.
Periodically, you should check your emergency kit (it may need to be restocked, and you will want to be sure no food has melted, water evaporated, etc.).
What Else Can I Do to Stay Safe?
Keeping your gas tank full (or close to full) at all times is a smart idea, and it becomes even more valuable during the winter and summer, when breakdowns can be especially devastating. In addition, before a big trip, you should have your car inspected so that you don't have to stress about problems while you travel.
Overall, having an emergency kit in your car is the best way to make sure you're going to stay safe, should an emergency occur. Hopefully you'll never need to make use of it, but it's always nice to have the added safety available.