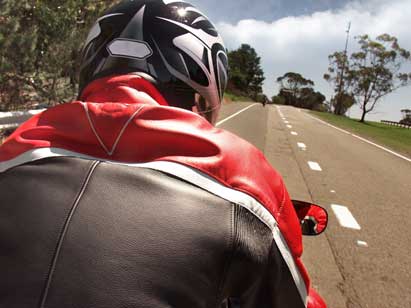 Be sure you register your motorcycle so you can get out on the road!
Registering a Motorcycle in Florida
Florida is a great place to ride a motorcycle or a scooter, but before you can ride your motorcycle, you need to register it. All motor-powered cycle owners in the state are required to register their vehicle, just like a car, in order to obtain a regular motorcycle license plate. (This includes scooters and mopeds). Both the registration and the license plate are renewed annually, so you will have to remember to reregister every year if you want to keep enjoying your motorcycle on the road.
Applications for motorcycles are started at your local county license plate agency. Registration fees for most motorcycles (excluding antiques) are just $41.15 a year, so you shouldn't have any problem affording to keep it registered.
Motorcycle License Plates
Once you have registered your motorcycle, you will be able to get your motorcycle license plate. Motorcycles have a metal plate just like cars, though much smaller for obvious reasons. Your motorcycle license plate will have a sticker at the upper right corner, denoting the valid registration dates of the motorcycle. When you reregister your motorcycle every year, you will be given new stickers to display. If a police officer catches you riding without current registration stickers, you will be pulled over and will face major fines and a suspension of your license.
Replacement of License Plates
If your motorcycle license plate is lost or damaged, you should request a replacement as soon as possible, as it is illegal to ride without a proper license plate displaying your current Florida motorcycle registration. You will have to make your replacement request at the local county license plate agency. Bring the following with you when you apply for a replacement:
Copy of motorcycle registration certificate
Enough money to cover any fees the agency may require
Replacement of Stolen License Plates
If your license plate has been stolen, you need to request a replacement. Replacing a stolen license plate is a similar process to replacing a lost or damaged license plate. However, owners of stolen license plates or decals must first report the theft to the local police. Information from the police report must be included when completing the Application for Replacement License Plate. Fortunately, all fees are waived for replacing stolen plates or decals.
That's all you need to do to begin enjoying your motorcycle on the roads in Florida. Stay safe out there.