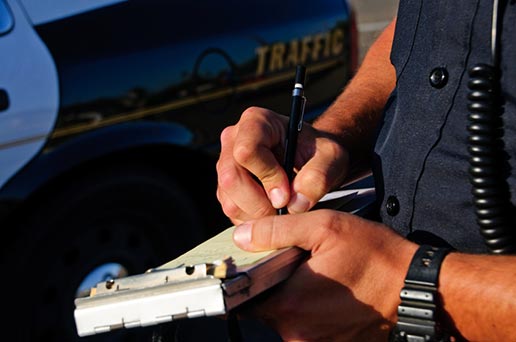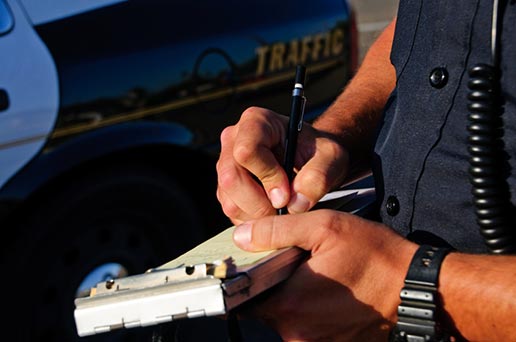 Traffic citations are used to help promote safe driving.
What Happens If I Get a Ticket?
Did you get a traffic ticket in Nevada? Don't worry, we'll help you take care of it. Just read on to find out everything you need to know about traffic tickets in the state of Nevada and how to deal with them.
First Things First: The Nevada Demerit Point System
Before you can understand the consequences that come with Nevada traffic violations, you need to understand how the system is set up. Nevada has what is known as a "demerit point system" in place as a way of keeping track of how well motorists are driving. It works like this:
You are convicted of a traffic violation.
The DMV receives a conviction notice from your court.
The violation is recorded on your driving record.
You receive demerit points for the violation.
The more severe your offense, the more demerit points you will be assigned. Some examples of traffic violations and the points that accompany them include:
Speeding 1-10 MPH over the posted speed limit: 1 point
Impeding traffic/driving too slowly: 2 points
Following too closely: 4 points
Failure to give information or render aid at the scene of an accident: 6 points
Reckless driving: 8 points
Getting Rid of Demerit Points
The good news is that demerit points aren't permanent. After 12 months have passed from the date of the conviction, the points are deleted from your driving record. However, it's important for you to note that even though the points will be removed, the convictions will stay on your permanent driving record.
You can also take a Nevada traffic safety course to remove 3 demerit points from your record. However, you must be eligible in order to have this option. To be eligible:
You must have only accumulated between 3 and 11 points.
The course may not be part of a plea-bargain agreement with the court.
The course must be approved by the DMV.
You are only allowed to attend traffic school once within a 12-month period to get points taken off your record.
Loss of Driving Privileges
In some instances, you may face more severe consequences. Your license will be automatically suspended for 6 months if you accumulate 12 or more points within a 12-month period. And if you are convicted of more serious traffic violations, like DUI, demerit points don't even apply—your driver license will be automatically revoked or suspended.
How to Deal with a Nevada Traffic Ticket
As you may know, you have two options when it comes to handling a traffic ticket: you can either plead guilty to the offense and pay the ticket, or you can plead not guilty and fight the ticket. We've outlined the procedure for each below so that you know what to expect before choosing either option.
Paying Your Ticket
After getting a Nevada ticket, the first thing you need to be aware of is that you must settle your ticket with the court in the county or municipality where you received the ticket. This means that it might not necessarily be where you live.
Follow the Instructions
Your Nevada traffic ticket will have all the information you need on it. Be sure you refer to this, since each county's requirements differ. For example, depending on where you were cited, you will be able to pay your ticket:
Online
In person
Via mail
Via phone
What Will Happen When I Pay My Ticket?
Depending on the traffic violation, you will have demerit points added to your driving record.
Your car insurance rate may go up if you've accumulated too many points.
Your driver license may be suspended.
You may have the option to take a traffic safety course to remove points from your record.
Whether you've had points added to your record or you've taken a course to have them removed, you should always keep an eye on your driving record to make sure it's accurate. Mistakes can happen, and you don't want to have unnecessary points on your record, especially when it could cause your insurance premium to jump.
Fighting Your Ticket
If you believe that you were not guilty of the violation you were ticketed for, you're able to contest your ticket. The steps to follow for this process vary depending on where you were cited, but in general, you'll need to do the following:
Notify your court: Typically drivers are required to appear in court to enter a not guilty plea. You may be allowed to submit a plea by mail, but if you are unsure, you should check with your court to find out.
Think about hiring a traffic ticket attorney: A traffic ticket attorney can offer you the best legal advice when it comes to dealing with your citation.
Prepare for your trial: If you elected to hire a traffic ticket lawyer, he or she can help you build your case. Otherwise, you will need to gather all the evidence you can, including contacting witnesses if there are any.
Present your case in court: You will plead your case in front of a judge, who will determine whether or not you are guilty of the violation. If you are found not guilty, you will not need to pay the ticket fine. If you are found guilty, you will be told what the next steps to take are.
No matter which course of action you end up taking after you get a ticket, be sure you respond to your citation before the date listed on it. If you don't, you could face even more serious penalties.