How to Avoid Getting Ripped Off at the Auto Repair Shop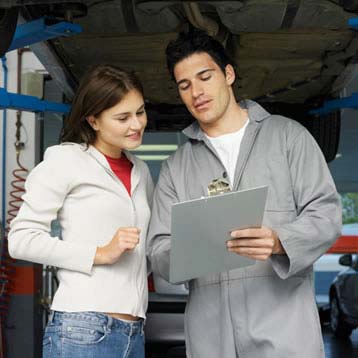 It's important that you pay attention to avoid getting scammed at the repair shop.
So It's Time to Go to the Mechanic: Are You Prepared?
It would be nice if you could go to the mechanic stress-free, without having to worry about whether or not you're going to be given a fair price. But unfortunately, car repair shops are notorious for adding services and costs to their customers' bills that were not originally discussed. You might go in to get your brakes fixed, and suddenly the mechanic is telling you that another part is in danger of malfunctioning, and that you should take care of that while you're there, too. If you're like most people, you don't have a ton of car knowledge on your side, which means you often have to take the mechanic's word for it. The added urgency of needing your car back so you can get around doesn't help either. So how do you avoid getting ripped off?
Ask Questions, and Get Everything in Writing
Too often, drivers are afraid to ask questions when they visit a repair shop. They'll go along with whatever the mechanic says because they assume that the mechanic is giving them sound advice. But you should ask questions until you feel you have a firm understanding of why the mechanic wants to make the repairs he is talking about. Be sure you find out what exactly is being included in the price he is quoting you, and what it's going to cost overall. Next, have the mechanic put this estimate in writing so that you have proof, should they try to up the price on you once the work is done.
Follow Your Vehicle's Maintenance Schedule
One of the best ways to skip expensive visits to the mechanic is to avoid needing repairs in the first place. How do you do this? By maintaining your car. Your car's manufacturer has a recommended schedule for vehicle maintenance, and this should be included in your car's owner's manual. This is the best advice to follow, as it is specific to your vehicle. Generally, by following a regular maintenance schedule, you'll save money and avoid surprise vehicle problems.
Pay Attention to the Most Up-to-Date Recommendations
As cars have become more advanced, car maintenance has changed too. Not every old piece of advice holds true anymore. For example, the general rule for oil changes was to do so every 3,000 miles; but nowadays, with many modern vehicles, this rule can be changed to 5,000 or even 10,000. Again, it's important that you follow the advice of your car manufacturer. If your mechanic recommends something other than what you've been advised to do in your owner's manual, show it to your mechanic and ask why he is telling you differently.
Establish a Relationship with Your Mechanic
Once you find a quality repair shop, stick with it (AAA regularly inspects repair shops so they can recommend good ones to their members—look for "AAA-approved" signs). By using the same repair shop every time, you establish trust with your mechanic. This customer loyalty will in turn lead to a more open, honest relationship, as opposed to going to a different mechanic every time and being scammed because they know you won't come back. An added bonus of going to the same repair shop is that your mechanic becomes familiar with your car and its problems, and is better able to understand what is going wrong and how to fix it.