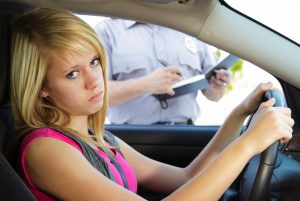 Teens: Have you been pulled over or had your first accident? It's okay. You can admit it. We want you to. In fact, I Drive Safely is offering an Apple iPad 4 to the teen driver with the best story about their first traffic ticket or accident.
If you're between the ages of 16-20, odds are you've gotten at least one ticket in your first few years on the road. And you're not alone. Drivers in your age group are at the highest risk for tickets and accidents. In fact, check out this informative infographic about the Dangers of Teenage Driving.
So why not get your story off your chest and help other teens learn from your experience? Enter the Teen Essay Contest and possibly win a cool prize! In 500 words or less, write up your account on the topic of "My First Traffic Ticket/Accident and What I Learned" and either e-mail your original story to us or send it through the mail by Sept. 2, 2013.
Here's How It Works:
Check out our Rules and Regulations. Next, fill out the Submission/Entry form and be sure to write your essay on the Entry form. If you're under the age of 18, you'll need to get your parent's consent on the Submission form to enter.
Submit your entry on or before 5:00 p.m. on Sept. 2, 2013 either by e-mailing it to contest@iDriveSafely.com or by sending it in to:
I DRIVE SAFELY
Attn: Teen Essay Contest
5760 Fleet Street
Carlsbad, CA 92008
Prizes:
First Prize: Apple iPad 4 (Wi-Fi, 16GB)
Second Prize: $100 Amazon.com Gift Card
Third Prize: $50 Amazon.com Gift Card
Winners will not only get their prize from the list above, but the top three stories will be published on The Express Lane for all the world to see. So go on, get writing already!