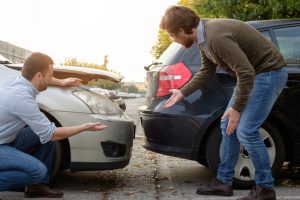 When I was learning how to drive, I distinctly recall being scared, frustrated, and possibly even a little weepy at times. Maneuvering an automobile wasn't as easy as it looked. Finally, the day came to take my behind the wheel test — I scored a 100 percent! I was so proud!
However, my knowledge of the rules of the road didn't always translate perfectly to my actions. I'll admit I made a few mistakes. I'm very happy to say I came away from all of these mishaps unscathed (though I can't say the same for a few of the vehicles unfortunately).
In an effort to help new drivers learn from my errors, and possibly even prevent some unnecessary accidents, here is my personal new-driver rap sheet. (My parents don't even know about all of this stuff, so I hope they're not reading this!)
Distracted Driving
Luckily, this was back before cell phones were a factor for new drivers, but did you know your friends (specifically your boyfriend) can be a distraction while you're on the road? I won't bore you with the details (get your minds outta the gutter) but a friendly officer pulled me over one night for driving a bit erratically. In fact, based on my actions on the road, he was concerned that I might have been drinking (I had not) and he gave me a field sobriety test. I've never been so scared in my life. I passed his test and was given a ticket for speeding, along with a stern lecture that I should not take my eyes off the road.
The moral: Tell your friends to keep it down, keep their hands to themselves, and don't let them distract you while you're driving! In addition, you should know, I took a boring classroom traffic school class to keep the points from this ticket off my record.
Improper Passing
I was late for school. We've all been there. The light was red and I needed to make a right hand turn. Well, I was impatient and I went around traffic in the bike lane. Big no-no. The part of a bike lane that's appropriate for passing is when the white line is broken, which the officer politely reminded me – with another ticket.
The moral: It pays to be patient and obey traffic laws. Unfortunately, I had already received a traffic ticket within the previous 12 months, so I couldn't take traffic school. My parents cut back on my driving privileges and forced me to start paying for part of my auto insurance.
Tailgating and Causing an Accident
This came a few years later, but again, I was in a hurry. You'd think I would have learned my lesson but alas, this lesson would take a while to learn. On my way to work, I was riding the bumper of a car in front of me. We were merging onto the busy freeway and I glanced over my left shoulder for oncoming traffic instead of watching the car in front of me. He hit his brakes, but I didn't. I rear-ended him. Yep. The accident was my fault. And I totaled my car. Great.
The moral: When driving in traffic, put a safe distance between yourself and the car in front of you. And never take your eyes off the road. Thankfully, I had good insurance and hadn't gotten a ticket in a while so guess who went back to traffic school!
Driving Unsafe For the Conditions
This accident was entirely my fault, and it was terribly scary. One misty morning, on my way to work, I took a turn too fast, swerved, overcorrected and actually flipped my boyfriend's truck on its side. I remember standing inside the cab of the truck and wondering what had just happened. What had happened was I was driving too fast for the wet conditions and lost control of my vehicle.
The moral: Aside from the obvious moral that you should always be extra careful when driving any vehicle other than your own (I wasn't familiar with how this truck handled),  it's important to SLOW DOWN when conditions are wet, foggy, or otherwise unpredictable. Luckily, no one was hurt. The truck was another story.
Reckless Driving
If you've made it this far then I'm hoping that you'll believe me when I say I am a much safer driver these days. And once you read this section, you'll know I finally learned my lesson about speeding and driving safely.
I wasn't cited for this incident, but I was definitely scared straight. It's worth noting that I could just describe this as "I was speeding," but since I'm being honest (why not? It's only the whole world that can read this on the Internet!) I will confess that I was driving 25 MPH over the speed limit when this happened. Not sure why I was in such a hurry, but I felt confident enough to take my eyes off the road while going 90 MPH on the freeway. I looked down at the stereo just long enough for a driver up ahead to hit their brakes.
I slammed my brakes and turned the wheel. At that speed, even the slightest tweak of the steering wheel can throw you off your path. My car swerved across four lanes, spun one and a half times and collided head-on with a semi truck. Luckily, the truck driver had been driving safely, saw me coming, and was able to respond correctly to prevent a tragic ending to this situation.
The moral: Well, there are several. First, speeding is dangerous. As is taking your eyes off the road. While my car suffered only minor damage, this situation was a life changer for me.
I know what you're thinking and yes, I have altered my ways. This is gonna sound cliché, but really the more experience I gained behind the wheel, the smarter (and safer) I became.  I can proudly say I have not been in an accident or gotten a ticket in over 15 years. I definitely take safe driving seriously and hope you do too!