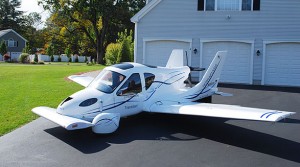 To some it's a flying car and to others it's a plane you can drive. But, no matter how you look at it, Terrafugia's Transition® Roadable Aircraft is one really cool ride! Did you ever think it was possible for one vehicle to fly like an airplane, fold up its wings, be driven on the road, and fit conveniently in your very own driveway? I didn't…until now!
The idea of the Transition® Roadable Aircraft came about in 2006 when the Terrafugia team, a group of MIT-trained aeronautical engineers, yearned for an eco-friendly and cost-effective solution to the challenges private pilots face. Weather can be unpredictable, but that's no longer an issue with the Transition® Roadable Aircraft! With push of a button, pilots can go from flying a plane to driving a car in 30 seconds flat.
Check out some more amazing features of the Transition® Roadable Aircraft:
You can fold and unfold the wings without leaving the cockpit
The Transition® has a wingspan of 27' 6" but when folded up, it's on only 80" wide
It can get up to 30 MPG on land—that's better than an SUV!
There's plenty of cargo space to hold anything from luggage to snow skis
Full side impact protection
Front wheel drive
You can even get a full vehicle parachute installed!
Getting your very own Transition® is not entirely out of the question either! All you need is a regular driver's license and a sport pilot's license. And, with just 20 hours of flight time in a Transition®-specific course, you can be flying and driving in no time!
Expect to see the Transition® Roadable Aircraft on your roadways and airways in the near future. The first delivery is scheduled for late 2011 to early 2012!
Watch this video to see the Terrafugia Transition® in action!