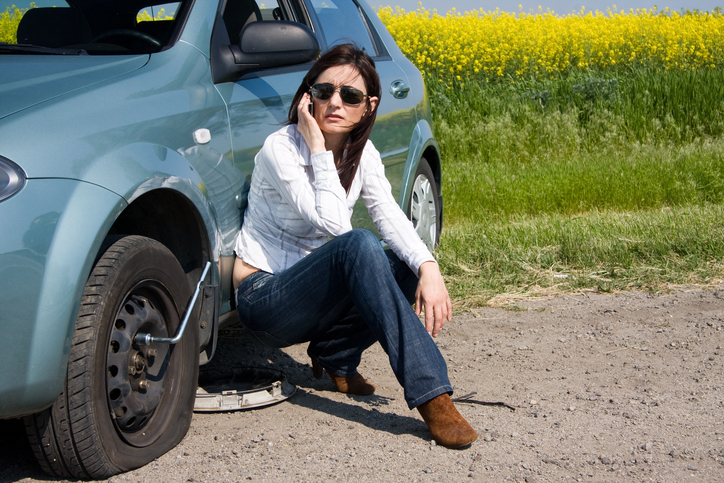 The classic bang and sometimes inadvertent pull to one side of your vehicle while driving followed by the gawky thumping of what used to be a functional tire. Whether on your way to work, a night out, grocery shopping, or whatever the case may be; it will most likely happen to you somewhere along the road—the dreaded misfortune of a flat tire. Fortunately, most drivers are well-equipped with some form of roadside assistance, but it is always beneficial to know how to change the tire yourself. If your tire goes flat when you happen to be running a bit late and on your way to something important, you will have the option of taking care of this yourself instead of waiting for roadside assistance simply by reading this article.
Once you are temporarily stuck on the side of the road with a marred, irreconcilable tire, here's what you will need and the basic how-to for successfully changing your tire and pleasantly going on with the rest of your day:
What you will need:
Car manual
Spare tire
Jack
Tire iron
Directions
Step 1: Dig up your car manual out of the over-stuffed glove compartment. Your manual will be able to direct you to where the spare, jack and tire tool is located in your car. (Hint: usually, the cleaner your trunk is, the easier these items will be to find).
Step 2: Remove the spare tire from wherever it is located in or on your vehicle. In general, you should always perform routine checks to make sure your spare is not flat as well, keeping an air pressure gauge with your spare at all times is always a good idea.
Step 3: Make sure your car is in park and the emergency brake is on to avoid any other surprises (As a safety precaution, do not attempt to change your tire in dirt or on a slope).
Step 4: Loosen (do not remove) the wheel lugs with your L-shaped tire iron tool.
Step 5: Use your owner's manual to find out where to properly place the jack underneath your vehicle. Place the jack under your vehicle and jack up the car as described in your owner's manual.
Step 6: Once the flat is completely off of the ground, remove the lugs and flat completely.
Step 7: Carefully place spare on to wheel studs and screw the lugs back on to seal your spare.
Step 8: Lower your vehicle and tighten your lugs as much as you possibly can.
Step 9: Success! Continue to your nearest service station to have a new tire placed onto your car and you will then be well on your way!