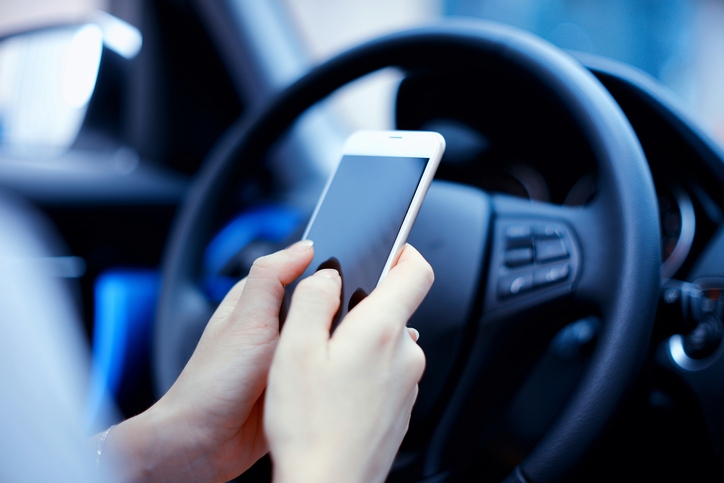 Did you hear the one about the guy who wrote a text that he needed to stop texting, right before he drove his car off a cliff? Really – it's not a joke. That actually happened to Texas college student Chance Bothe earlier this year. And while he survived his accident, he suffered severe injuries, brain trauma, and was in the hospital for 6 months.
The National Safety Council estimated that a minimum of 160,000 crashes in 2010 involved texting while driving. The risk of danger is incredibly high when you take your attention off the road. According to Distraction.gov, "Text messaging creates a crash risk 23 times worse than driving while not distracted."
In the U.S. 39 states, plus Guam, Washington D.C., and the Virgin Islands, all ban text while driving, according to the Governor's Highway Safety Association. And the National Safety Council has stated that approximately 100,000 crashes a year involve drivers who are texting.
Think of texting and driving just like any other addiction to a deadly substance. If you don't quit now, you could be putting your life, or lives of others, at risk. It's time to break the habit.
1. Turn it off. The easiest way to break the habit is to turn off your phone while driving. Why not? Unless there's an emergency, do you really need to take that call, respond to that text, or check your email while driving? We're pretty sure you know the answer, but just in case–it's NO.
If you're not that brave, you can always silence your phone. You won't get distracted by the alerts when you get a call or text but you'll still have access to your phone in case you need to make an emergency call.
2. Try an app. There are a lot options out there to help keep your hands off your phone while still receiving (and sometimes sending) important information.
DriveMode (Free): Available for AT&T subscribers using a BlackBerry or Android smartphone, the application will automatically silence the notification sounds of incoming texts, emails, and phone calls. It will also send a customizable automatic reply if you're moving 25 MPH or faster, so you can let senders and callers know you're driving and will respond when it's safe.
While it does limit your driving usage, DriveMode still allows you to receive and make calls to a list of up to 5 people if it's essential that you hear from them. However, texts are off limits.
Siri (Free with iPhone 4S or 5): Think of Siri as your personal assistant. The app has the ability to read texts to you, and you can dictate a reply for her to send on your behalf. A decent option for iPhone users, it still requires some effort and attention on your part. Siri can also find locations and give directions, helping you stay even more focused on the task at hand. Android users have a similar option with Google Voice Actions.
Drive Alive (Free): Get rewarded for good driving habits! With this new app, you'll log in before you start your trip and get points for not using your phone. Drive Alive will track your trip using GPS to ensure you're actually driving (and not just taking a stroll), and will monitor your phone use during your drive. It will then send the results of your trip back to the Drive Alive database, and ultimately you'll receive cash rewards for keeping your hands off your phone! 
tXtBlocker ($6.99 monthly per user): Ideal if you're a commuter or drive a kids' carpool, you can set up your own limitations by entering times and locations when and where you won't receive texts and phone calls. Don't worry, you will still have the ability to dial 911 or a pre-set list of numbers, in case of an emergency.
3. Hand your phone over. Don't want to turn it off, and don't trust yourself to use an app? Hand your phone over to a passenger. Even if it's your child, you'll set a good example by putting your phone out of reach so you won't even be tempted to touch it. Plus, if something important comes through, they can respond for you!
Breaking any bad habit can be hard. But texting while driving isn't worth the risks.