Route 66 originally ran from Chicago, IL to Los Angeles, CA, through eight states, and has always been a main route for travelers heading west. Since its prime, most of Route 66 has been replaced by the interstate highway system (official name), but adventurous travelers can still drive portions of it, and many residents are trying to restore it to its original glory. Here are some great spots to stop at while making the trip.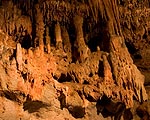 Meramec Caverns (MO)
The Meramec Caverns are located along Route 66 in Missouri, and are a 4.6 mile deep cavern system. The colorful caverns were created by mineral formations. The caverns hold a lot of history – American outlaw Jesse James is rumored to have used the caverns as a hideout and Native American artifacts have been found there. You can take guided tours of the cavern every day of the year but Christmas and Thanksgiving, and it is known as one of the must-sees on Route 66.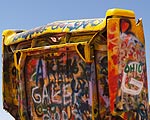 Cadillac Ranch (TX)
For the traveler that is interested in seeing art pieces along the way, Cadillac Ranch is a must see. In this dusty old wheat field, a San Francisco art collective buried ten Cadillacs half way into the ground. The Cadillacs are covered in graffiti and visitors are invited to add their own. Definitely a piece of Americana that shouldn't be missed!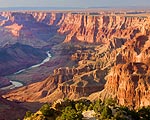 Grand Canyon (AZ)
The Grand Canyon is located only an hour and a half away from Route 66, and is a popular stopping point for people on the route. Other than the view of the canyon, there are plenty of activities to participate in, including rafting, hiking, horseback riding, and helicopter tours.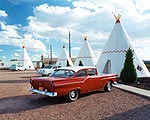 Wigwam Motel (AZ)
There are two Wigwam motels on Route 66: one in Holbrook AZ, and one in San Bernardino, CA. In both of these motels, the rooms are all shaped like teepees. The motel in Arizona is near the Petrified Forest National Park and the Arizona Meteor Crater. The Petrified Forest National Park contains a collection of well preserved, colorful pieces of petrified wood. At the Arizona Meteor Crater, you can see one of the best-preserved craters on earth, a place where NASA astronauts trained to prepare for the Apollo mission to the moon.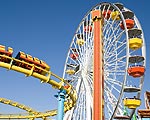 Santa Monica (CA)
Santa Monica may be the end of the route, but that doesn't mean there aren't still sights to see. The Santa Monica Pier offers entertainment, dining, and shopping. Here you can spend some much needed time out of the car relaxing on the beach in the sun.