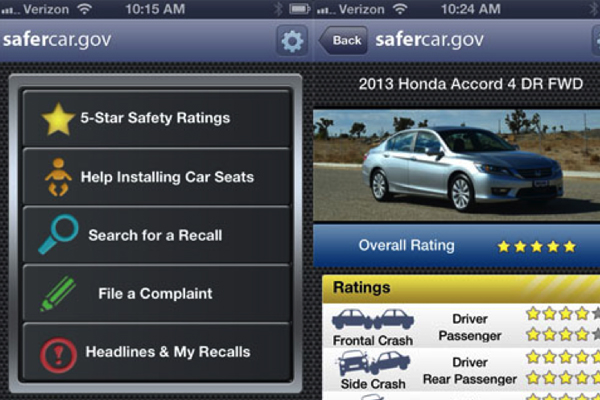 Safety is always at the top of every driver's list. So whether you're in the market for a new car, or you're just curious about the safety of your current vehicle, a new app launched by the National Highway and Traffic Safety Administration puts invaluable safety info right at your fingertips.
With the launch of its new SaferCar app for iPhones and iPod Touch, Apple users have the opportunity to access the NHTSA's extensive auto safety database from anywhere.
Coinciding with recent improvements to Safercar.gov, as well as the NHTSA's ongoing efforts to provide safety information in a fast and convenient manner, the app offers a range of information that can be accessed quickly and easily on the go.
The categories customers will see on the SaferCar home screen are:
5-Star Safety Ratings: organized by year, make, and model
Help Installing Car Seats: includes phone numbers and mapped directions to the safety checkpoints
Search for a Recall: for models starting in year 2000
File a Complaint: a simple form you can fill out and submit
Headlines & My Recalls: can be customized to receive recalls for your specific vehicle
In a release published by the NHTSA on March 21, 2013, the NHTSA Administrator David Strickland said, "Timely, accurate, and accessible safety data is the lifeblood of our agency's work. The new SaferCar app literally puts the latest in vehicle safety information directly in the hands of consumers so they can make the appropriate purchasing and other decisions for themselves and their families."
Free to download, the app requires an iOS of 5.1 or higher and is compatible with a range of iPhone and iPod devices as well as the Apple iPad. The NHSTA also indicates that an Android-compatible version of the app is in development.
In keeping with their safe-driving goals, the SaferCar app opens with a screen stating, "Don't Text And Drive," and requires the user to tap it before they can start using it. To keep up with all the latest in car and road safety, download it and give it a try!