A Scottish university may have solved the world's rising gas prices – with whiskey!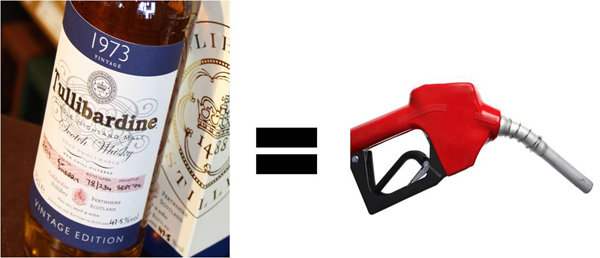 Drinking and driving is an obvious danger, and is against every traffic law on the books. But what if your car was the one getting a little tipsy?
Believe it or not, researchers at Napier University in Edinburgh, Scotland have discovered a way to power vehicles with leftover whiskey. The distilled by-products of Scotland's most ubiquitous spirit can be turned into biobutanol, which the BBC says is "the next generation of biofuel which gives 30% more output power than ethanol." By using leftover pot ale and draff (the liquid and grain remainders from whiskey production), scientists have created a sustainable biofuel that can – and quite possibly will – replace gasoline.
Tullibardine Distillery spends £250,000 per year on disposing its whiskey by-products, and the entire industry throws out nearly 420 million gallons of pot ale. With the help of Celtic Renewables, a company invested in the creation of renewable biofuels, the distillery will open a processing center to turn these byproducts into fuel, which can then be sold to consumers. And while ethanol needs to be blended with gasoline to power vehicles, biobutanol can make them run all on its own without any modifications.
While the consumer cost outlook hasn't yet been predicted, the long-term impact on environmental factors – coupled with the decreasing supplies of oil – makes this breakthrough a huge stride in the efforts to find more sustainable, cost-effective fuel alternatives. Since humans don't seem eager to give up their vehicles OR their liquor anytime soon, this innovative technology makes the best of both worlds.
So while neither you nor I should ever imbibe whiskey before getting behind the wheel… perhaps we can give our cars a break!