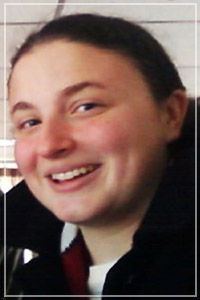 Second Place: Anna Blatto, age 17, of City Honors in Buffalo, N.Y.
My filmmaking endeavors began in 11th grade along with my friend Christina Schultz when we started taking IB Film, a two year course that is half analysis and half production. Since then, we have made several in-class films as well as films for other contests.
Distracted driving is a serious problem in today's society since there is so much to be distracted by. And since teenagers are so new to the road, it's easy to think that we're invincible. But it's important to remember to be cautious as well. We thought it was important to highlight the potential deadly effects of acting in a reckless way while driving in an attempt to act as public informants.
I plan on going to college next year and studying courses in Liberal Arts. I don't necessarily want to study film primarily, but I hope to use film and the skill I've acquired thus far in whatever I end up doing. Christina, on the other hand, has plans to study film in school.
This would not have been possible without the countless friends, relatives, teachers, classmates, and beyond that offered their support and voted every day for our video! We thank you so much and we couldn't have done it without you! We'd also like to offer special thanks to all those who acted in our video, and most especially to our teacher/librarian Mrs. Mel Holden who turned the library into a virtual voting station and supports us in all of our endeavors! 
Anna, a young girl, just got her license and is having a little too much fun with her freedom.
Her actions prove to be fatal. Reckless driving affects everyone, not just the people directly involved.