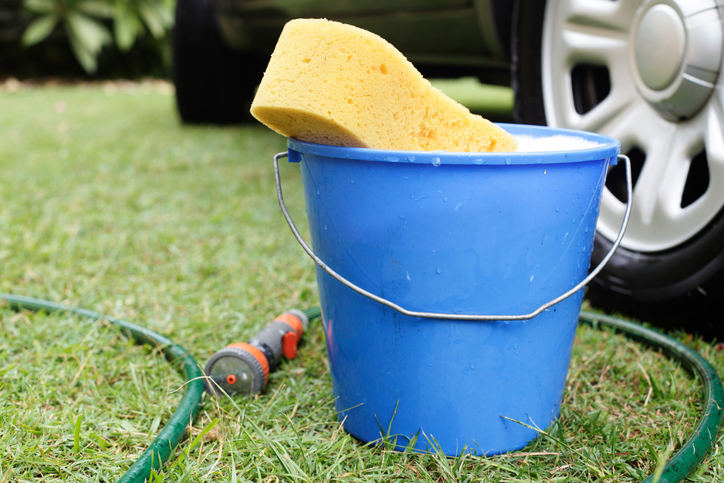 The truth of the matter is, the most eco-friendly way to wash your car is to take it to a professional carwash facility because they are required by law to treat their waste water. Plus, they utilize computer systems and special nozzles to minimize water usage, and some facilities even recycle and re-use the water they use to rinse our cars.
However, even though it may be the most eco-friendly choice for keeping your car looking nice and shiny, it may not the most economical. So, if you want to save some money and wash your car at home, here are a few tips to do it the "green" way:
1. Park your car on the lawn. It may seem like a weird concept, but, why not take care of your lawn while washing your car? Wash your car and water your lawn at the same time and you'll cut down on your water usage. And, your lawn will help filter the water and prevent it from running directly into the sewer.
2. Limit the amount of water you use. Fill up a bucket (the smaller, the better) with water and biodegradable soap. Then rinse your car and turn off your hose. Wash it, then rinse again. To make it even easier, purchase a nozzle for your hose that stops the water from coming out when you're not using it.
3. Buy eco-friendly soap. Using soap with a lot of chemicals can be hazardous to the environment. There are many brands of eco-friendly soap on the market. Or, you can make your own using a combination of dishwashing detergent and laundry detergent (as long as they don't have chlorine or phosphate and aren't petroleum-based).
4. Avoid using paper towels. Using paper towels to dry your car and throwing them away is extremely wasteful and pollutes the environment (and, it can be costly). Instead, turn old t-shirts and towels into rags to dry your car and re-use them. Or, you can purchase reusable terry cloths.
5. Go waterless. There are some great waterless formulas on the market that work well for spot cleaning and upkeep. All you need is a spray bottle and a cloth!