There's no denying that the running of red lights is the one of the biggest threats to safety we face at intersections in America. It's also no secret that 24 states have decided that the most effective way to curtail this threat is through the systematic use of cameras at major intersections. These cameras automatically detect if a vehicle enters the intersection even a fraction of a second after the light turns red, and snaps photos of the license plate and driver of the car.
The red light camera system has been in use to varying degrees across the U.S. since the early 1990s, though in that time much debate has arisen as to its efficiency for reducing accidents and increasing overall intersection safety.
The Red Light Camera Controversy
While these cameras are said to deter intersection accidents, it has been previously determined that in fact they cause more rear-end collisions, and are thought to be out for profit rather than protection. Many statistics from across the nation show significant decreases in right-angle crashes in the presence of red light cameras; however, the same statistics also show an increased tendency to slam on the brakes at yellow lights. Some cities are accused of intentionally shortening yellow light durations and only installing cameras where they are likely to give out the most fines.
But as you will see below, there are solutions being tossed about that may surprise you — including removing speed limits and traffic rules altogether (hint: think "Autobahn").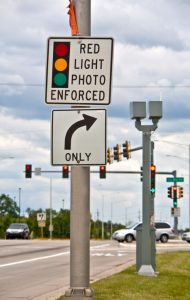 Thinking Outside the Camera
Perhaps instead of limiting the discussion to "red light cameras vs. no red light cameras", the real question we should be asking is how to make our roads as safe as possible in the simplest manner. Increasing traffic flow efficiency and safety could happen in a number of ways, including longer yellow light durations and better road maintenance.
According to some European examples, the most effective remedy to dangerous driving behavior may actually be a significant loosening of traffic regulations and enforcement. An experiment started over a decade ago in a small Dutch town has shown that when nearly all road signs and traffic lights were removed, and residents were forced to rely on their common sense and judgment on how to drive safely, people on average drove slower, traffic flowed more freely, and far fewer accidents occurred. The study confirmed that the more they attempted to micromanage and control the actions of individual drivers, ultimately the more difficult it became to ensure a safe and efficient road system.
Consider also the Autobahn in Germany, which is essentially a series of massive highways without enforced speed limits, and which has a better safety record than American highways. Similarly, in the 90s, the state of Montana experimented with "no speed limit" highways and actually found the accident rate greatly reduced as a result.
The theory behind these instances of safety without regulations is that drivers psychologically shift when they see themselves as entirely in control of their cars and actions. They pay more attention to their surroundings and are more cautious of the actions of other drivers when they don't feel like everyone is just moving according to a predetermined set of rules. After all, the vast majority of pedestrians seem to be able to manage just fine without violently bumping into one other, despite having no clearly-defined rules on how sidewalk strolling is allowed to happen. We can't say for sure yet what level of deregulation would be optimal for major cities like New York and Los Angeles, but it may certainly be worth looking into as a proactive alternative.