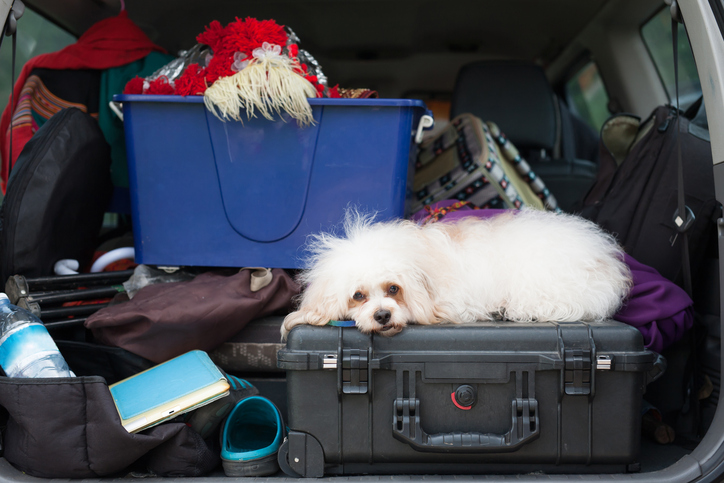 Does your trunk look like this? We all seem to use our cars for more than just driving. Some of us store essentials for emergencies or after-work activities. Others keep a stash of books, games, and other gear to keep kids entertained.
Give yourself and your vehicle a fresh start for the new year by clearing out the clutter. Try these helpful tips to keeping everything in its place and ensure a safer drive.
Organize For Safety
Safety is the most valuable reason to clean up your car. Small and loose objects that we consider harmless can actually become projectiles if we slam on the breaks or get in an accident. This can lead to serious injuries to ourselves or our passengers.
Another great reason to stay organized is to prevent distractions while driving. According to Distraction.gov, a U.S. government website for distracted driving, "In 2010, 3,092 people were killed in crashes involving a distracted driver and an estimated additional 416,000 were injured in motor vehicle crashes involving a distracted driver." Searching around for small items while driving means taking your hands off the steering wheel and your focus off the road.
Organizing your car might seem a little daunting at first, but your reward for the effort is a safer, more controlled, and convenient driving experience.
Clean It Up
The first step to getting organized is a good old-fashioned clean up. Start by combing through your car for any unnecessary clutter and trash on the floor, under the seats, and even in the glove compartment. Throw out all the miscellaneous pieces of paper, empty water bottles, and other garbage that have made your car its home.
Next, get out the vacuum and give your vehicle a good once over. Be sure to remove child safety seats, pull up floor mats, and get down under all of the seats. Little things might be hiding under there that could roll out and get under your accelerator or break while driving. If your home vacuum isn't up to the task, hit up a gas station and use their high-powered suckers—they'll get the job done!
The Junk in Your Trunk
According to the U.S. Federal Trade Commission, "An extra 100 pounds can reduce a typical car's fuel economy by up to 2 percent." Take away everything you don't use regularly or won't need in an emergency. For instance, heavy things like folding chairs and other bulky picnic items should only be in the trunk when you need them. Additionally, seasonal items such as tire chains for snow or mud should be placed in the trunk only when necessary—don't carry them around all year. Ask yourself, "Will I use this today?" If the answer's no, it has to go.
Everything in Its Place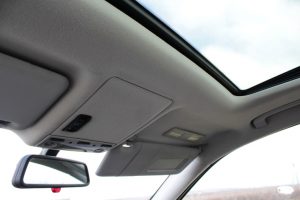 Ok, now that you know what you want to keep handy, either inside your car or in the trunk, let's find it a home.
Create convenience for yourself with something like a visor organizer by Case Logic. It attaches flat against your sun visor and has handy pockets for your phone, pen, and a slot for paper essentials like your registration or insurance card. You'll love having everything you need at your fingertips. Plus, the unique design can be flipped up so you'll still have access to your visor mirror if you need it.
Moving on to your passengers, there are ample options available for keeping all your stuff stored safe and sound. For a streamlined back-of-seat organizer, Case Logic also has an option with plenty of pockets for small electronics, books, and more. It attaches flat to the back of a seat at both top and bottom to keep it in place and out of the way.
Parents: want something with a little more room for key essentials to keep your little one occupied? There are tons of options out there to choose from. Another model made by Jeep also sits flat against the back of a seat for easy access and has expandable pockets ideal for holding Sippy cups or toys. Your little one will be able to reach what they need without any help from you!
For the trunk or hatch area, you can easily keep things conveniently stored without sacrificing space. A lightweight option is an organizer net, like this one offered by Highland. It's great because you can hang it when you need to store your gear or groceries, but it folds up small for easy stashing when not in use. Want something sturdier? Try a two-pocket foldable organizer from The Container Store. It folds up small when not in use and creates a great space for gear when you want to keep your stuff from sliding around.
Keeping It Up
Now that you're all tidy, get everyone in the family involved in keeping the car clean. Make it a daily chore to remove all items from that may have accumulated throughout the day. If you're getting ready to take a road trip, bring a trash bag to get the garbage out right away. And don't forget to put travel documents in an easy-to-access spot so you'll keep your attention on the road.
With these few simple changes, you'll create a safe and distraction-free driving environment!
About Author
James McDonnel contributed this guest post. James is an automotive enthusiast and a freelance writer. His articles mainly appear online on auto publications. He enjoys rare driving experiences and he wants to try tank driving at Wish.co.uk, which was one of his childhood fantasies.