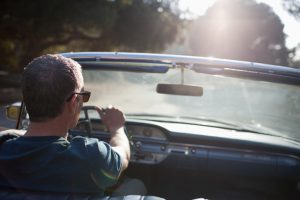 Maybe you dream of feeling the wind whipping through your hair as you cruise the open road. Maybe your perfect weekend includes sleeping under the stars in the bed of a truck. Or maybe you spend your weekends transporting kids to the zoo. Before you head to the dealership to find your perfect car, it's important for you to know just what kind of vehicle will pair up with your lifestyle.
Here are a few simple questions you should ask yourself before you buy a new or used car.
What Kind of Driving Will You Be Doing?
Are you a commuter or a chauffeur? Some drivers who spend a lot of time on the road prefer to drive in style. Others want a vehicle that's convenient for taking kids to and from their activities while enjoying certain valuable comforts like extra cup holders or split seats for stashing gear. The first step to finding your perfect vehicle is to narrow down the type of driving you'll actually be doing. This will help you identify what kind of car you really, truly want. Keep in mind that there are plenty of shapes and sizes, from coupes to full-sized SUVs on the market. Answer this question honestly, so you can identify what you really need over just what you would want to have.
How Many Passengers Will You Be Transporting?
Ok, so maybe you'd prefer to have a Ferrari, but the two-seater style could leave a few of your family members on the curb. While you, the driver, are the one who will be spending the most time in this vehicle, consider other lifestyle factors like friends, family, and even pets when narrowing down your search. Maybe a Mini Cooper is perfect for just you and your pooch, but another driver might like to have extra legroom for transporting his or her in-laws to the airport. Once you consider who you'll be driving around you'll have a better idea of how to do it safely and comfortably.
Is Gas Mileage a High Priority?
With the price of filling up your tank taking a giant chunk out of your monthly budget, finding a vehicle with the best possible gas mileage could be your highest priority. Fueleconomy.gov offers a list of the most fuel-efficient and least fuel-efficient cars of 2013. Keep in mind that fuel economy is just not synonymous with certain types of vehicles. If you're in the market for a full-sized pickup truck, for example, you might want to put engine power higher on your list of priorities than gas mileage.
Will You Be Hauling Anything?
This is a good question if you're looking for a truck or an SUV. Whether you're planning to use your vehicle to haul concrete for work or tow your boat on the weekend, this is a vital piece of information you need to have before deciding on what you'll be driving. If you answered yes to towing or hauling, then size and weight of these objects will help you determine the level of horsepower you'll want in your truck.
What Kind of Climate Do You Live In?
Let's face it, some cars are just better suited for bad weather. All-wheel or four-wheel drive can be perfect choices for drivers in areas where rain or snow might hinder their mobility. But if you're driving on dry roads 360 days of the year, you might want to reconsider that 4×4. Not only will you reduce your overall fuel efficiency but you could also end up with higher insurance premiums. Don't underestimate the value of driving safely and assume you need more vehicle than your area requires.
Now that you know what kind of driving you'll be doing and who or what you'll be driving around, you can continue to narrow your search by make, model, and year. A great place to start is buy reviewing the information about your desired cars at Kelly Blue Book. It's more than just a resource for new and used car prices–you'll also find expert and customer reviews, as well as a payment calculator and even insurance resources that can help you refine your search for the perfect vehicle. Good luck!