No, that's not a typo. Volkswagen has announced a new plug-in hybrid vehicle, scheduled for production that gets an amazing 260 miles-per-gallon.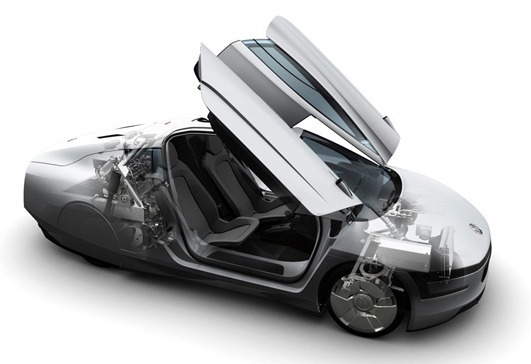 Easy on the eyes. Easier on gas.
Not only does the VW Formula XL1 get out of this world gas mileage, it also looks like a cross between a super car and a UFO.
Introduced at the Qatar Motor Show, the XL1 featured a lithium-ion battery-powered electric motor that powers the car for approximately 22 miles on a single charge, then a teeny, tiny 0.8-liter two-cylinder turbodiesel engine works its magic. Although this car looks fast, to meet those lofty efficiency standards, the diesel engine puts out just 48hp and the electric only 27hp. Not exactly "Fast and The Furious", but think about the power you'll be flexing at the pump!
Many factors go into making such a hyper-efficient vehicle, including its ultra-lightweight carbon fiber body panels. In fact, the XL1 boasts the second most carbon fiber parts for a production car. Only the million-dollar Bugatti Veyron utilizes more carbon fiber.
Where Can You Get One?
Well, since Volkswagen has only committed to building 100 XL1s as an initial test run, and they haven't said when production will begin, I wouldn't expect seeing one with a big red bow wrapped around it for some time. But with gas prices the way they are these days, it doesn't hurt to dream about 260 MPG.