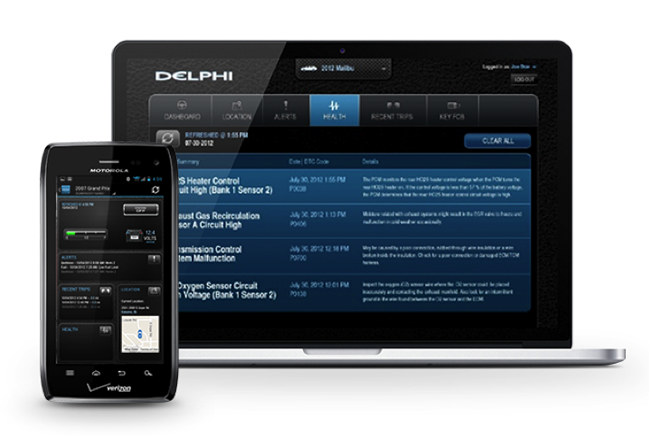 It wasn't long ago that amenities like keyless entry, automatic windows, and seat warmers were considered breakthroughs in technology. But each year, new waves of technology bring us closer and closer to living in the future. The latest company to make a splash is Delphi, with their Vehicle Diagnostics module.
In the past, you'd have to resort to old-school solutions to old-school problems. Keys locked in the car? Call the locksmith. Car making a funny noise? Bring it in, hope it's not too expensive. Car stolen? Good luck! The Delphi Vehicle Diagnostic Module can help you with all of that.
In Case of Repair
Do you know how often you need to replace your timing belt? Or what a catalytic converter does? If you're like most Americans, when your car breaks down, you take it to a mechanic. That's where Vehicle Diagnostics comes in. This module lets you troubleshoot your car from your computer, or even your smartphone.
This comes in handy in monitoring your car's overall health—knowing when to flush that transmission fluid, or if your oil change is overdue. But it also helps arm you with better information when you bring your car in. How do you usually describe the problem? If you're like me, you're at the mercy of their ability to interpret your whirring and clunking sounds. The more information you're able to provide, the more likely the problem will get solved. And knowing your car is healthy can bring you peace of mind out on the open road.
In Case of Emergency
Have you ever locked your keys inside your car? Don't lie, we all have. This new technology lets you access your car's door locks from your computer or smartphone. So long as you have your phone with you, you don't have to worry about locking your keys in your car ever again!
In Case of Theft
Vehicle theft is still a major threat in America, but for every car-stealing tactic thieves can come up with, there's a technology to combat it. Thanks to modern GPS and mapping technology, Vehicle Diagnostics allows you to not only target your stolen car's exact location, it also lets you review the car's driving history in detail. So not only can you watch your carjackers in real time, you can also see where they stopped for a smoothie!
The $250 price tag may seem daunting at first, but again, if you're at all like me—anything more complicated than putting gasoline into the car is "best left to the experts"—the benefits it provides are well worth it. In fact, the only thing this new technology needs is a cute name. Pocket Mechanic? Car Gizmo?
As the bar for technology gets raised higher and higher each year, we get to enjoy the convenient benefits and safety features that come along with it. We may not be eating our food in pill format, or driving hovercars that fold up into briefcases, a la The Jetsons (YouTube it if you're under 30), but with new techs like this coming out each year, we're getting there.