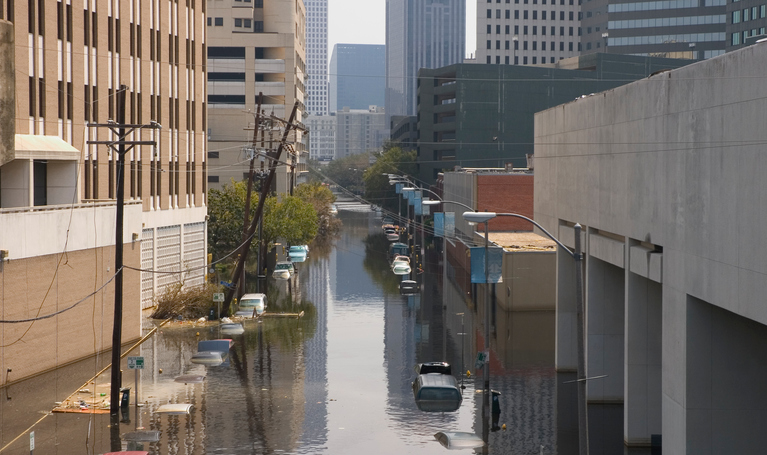 Flash flooding isn't something most drivers think about, especially during the wintertime, when it's moreso about ice and snow. However, this year may be entirely different, due to the meteorological phenomenon known as El Nino. It may not ring a bell with East Coasters, but those states bordering the Pacific Ocean are well aware of the implications of a strong El Nino.
And this year's El Nino looks to be the strongest in decades. This means a higher occurrence of strong, wet, sudden thunderstorms in areas which don't receive much precipitation – and as such are ill-equipped to deal with a sudden onset of rain.
Most recently, a week-long storm in California resulted in flooding, landslides, and damage throughout the state. One of the iconic images was a parking garage in San Diego completely flooded, with vehicles stuck in the mud, so to speak.
When it comes to natural disasters, personal safety is certainly priority one, but when all is said and done, how's your automobile going to fare after a series of heavy storms?
The Moldy Toll of Heavy Precipitation
No matter how you cut it, a flood isn't going to do your car any favors. Flooded vehicles are rarely driveable again – and even when they are, they can cost a pretty penny to get back up to speed.
When a vehicle is flooded, everything gets wet. Yeah yeah, it's obvious, but you don't realize just how wet something can get until it's been submerged in water for a few days. Expect your car to still be damp even a week after it's been pulled out of the drink.
And when surfaces such as car interiors are damp for that long, it's a sure bet that mold spores will be attracted to them. Mold may seem like a minor nuisance, but it's no joke in a vehicle. Not only can mold cause structural integrity and safety issues, but it's also a major respiratory health hazard. And worse yet, an automobile has so many nooks and crannies that it's nigh-impossible to completely eradicate.
Flooded Car Means Flooded Car Parts
When we say everything gets wet, we mean it – everything gets wet. Wherever the flood water can go, it will. That not only includes the insides such as the seats and trunk, but also encompasses the engine compartment and other essential functioning parts of an automobile. This can lead to a laundry list of problems:
Water can fill up the cylinders, which is a deal-breaker. Cylinders can't be compressed like air, which results in hydro-lock – and can break or bend everything connected to it when the engine is started.
Water can easily get into the transmission – and since it's a poor lubricant compared to transmission fluid, that likely means it may be busted.
Say goodbye to your electric components. More and more vehicles these days are controlled by intricate electrical and computer systems under the hood. We all famously know that electricity and water don't mix, and it's no different here. In the best case scenario, only your power windows and A/C may be affected, but when it comes to a flood, such a scenario is extremely rare.
What to Do in Case of a Flood
If your vehicle becomes flooded, all is not lost. The first thing to do is to, obviously, get the water out of it and get it to your mechanic. The sooner you can do so, the greater your chances are of salvaging it from natural disaster.
The mechanic may then do everything they can to bring the car back to a drivable condition, including drying the car, bleaching the seats and interior to kill mold, and checking the engine and other essential parts for rust and corrosion.
This is all going to cost a pretty penny, so if you're not insured, it's probably more prudent to spend your well-earned money on a new vehicle. And even if you are insured, there's a good chance that they may write your vehicle off as a total loss anyway and cut you a check toward a new vehicle.
Either way, when it comes to automobiles, flooding is no joke. If you're on the West Coast, be prepared for a potentially record-breaking wet winter season.