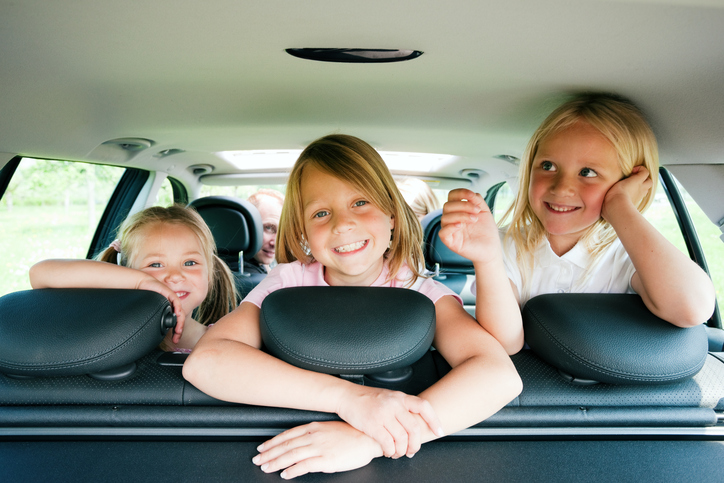 When you are taking the kids out on a longer road trip, the backseat can potentially become an unbearably boring place to be. There is one thing that will always help fight boredom during those long car rides: Playtime. Games and activities will definitely make a world of a difference while traveling with your children.
The following is an age-appropriate list of fun games and activities that you and your children can try. To make the long car ride even more fun for you, consider these trips as a wonderful opportunity for spending quality time with your kids. If traveling with a spouse or other relative who is willing to split up the driving during the trip, take turns playing with your children while on the road as well. Your children will love that you share in their enthusiasm for playtime – making time fly by.
Below is a list of activities for you and your children ordered by age:
2-5 years old:

Aluminum foil art: Just hand your children aluminum foil and have them try to shape it into an animal, jewelry, or shape.
Animal Sound Game: Make different animal sounds and let your children guess the animal. If your children are more advanced with their animal sounds, try an animal guessing game where you can give your children clues to what kind of animal you are thinking of (ex. 'I'm thinking of an animal that lives in the jungle').
Story Time: This is a great way to calm your children down, if need be. IF your hands are free and you're not the one at the wheel, you can tell your children a story using a felt board and allowing your children to manipulate the characters attached to the felt. If you are stuck driving put in a story tape.
Treasure Bottle Game: Use a clean jelly or peanut butter jar, fill it ¾ full of uncooked rice or beans and small miscellaneous items (jelly bean, penny, button, etc.) then mix everything in before gluing the top on (since these are not items you want accidently all over your car).

5-7 years old:

Hide and Seek: Pick a place in your house and pretend you are hiding there, have the other player guess where you are hiding, and remember this is your imagination so you can hide anywhere – even inside of places like the microwave.
Etch-o-sketch/ Drawing pad: Nice and easy way to keep children occupied while driving. Have one of your children guess what the other is drawing to make things more interesting.
Scavenger Hunt: Before leaving for the trip, give your children a list of things to look for while on the road. You can even look online for printable road trip scavenger hunt lists
Pipe Cleaner Art: Give your children colorful pipe cleaners to make animals, jewelry, or shape with.

7-12 years old:

Rubik's Cube or Handheld Puzzle: Challenge your children with one of these brain teasing puzzles.
Rest stop sports: Bring a ball, Frisbee, or hula hoop for some extra exercise and fun while taking a break from the road.
The Gameboy: An electronic game device that will keep children preoccupied for hours.
Who am I: A classic guessing game that's fun for everyone! Give the other players clues such as "I have a long white beard . . . " and then let the guessing begin, or make this game a yes or no style where the players are asking you the questions and you answer only yes or no.
These are a few games to get you started on the road with your kids. The important thing is to take the opportunity to make the most of your road trip by having fun with your children – which will always make time fly by for everyone on those long road treks.