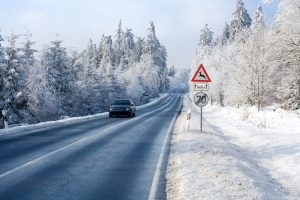 Winter brings with it the cheerfulness of the holiday season, but unfortunately, it also brings weather that can be tough to deal with. It's important to prepare for these weather conditions so you can make things easier on yourself. These tips should help keep you out of trouble.
Be Sure Your Tires Are Properly Inflated
In order to handle adverse weather conditions, your car's tires must be in good shape. Check the air pressure on all four tires and inflate them to the proper level (your car's owner's manual should state the necessary level). If you live in an area with harsh winters, you'll want to consider buying snow or winter tires to replace your regular ones.
Check Your Oil
Cold temperatures cause car oil to thicken; this is a problem because oil that is too thick will flow slowly between parts, and the engine will get overly hot. Oil is intended to lubricate the metal surfaces of the engine and stop them from grinding together. That's why having the proper viscosity of oil, and the right amount, is essential. In the winter, use oil with a lower viscosity to avoid problems. Your owner's manual should offer a recommended type of oil, and it may suggest a thinner type of oil for times like winter.
Check Your Antifreeze Level
As its name suggests, antifreeze keeps your engine from freezing in cold weather (it also reduces corrosion). Typically, a car radiator requires equal amounts of antifreeze and water; this will prevent fluids from freezing, even at temperatures as low as -34 degrees. Ignoring your antifreeze level can cause the coolant to freeze, which will make the engine extremely hot. This could lead to blown gaskets, which can be expensive to repair.
Keep Your Windshield Wipers in Shape
Windshield wipers don't last forever—over time, they crack, split, and break down. But during the winter, heavy rains and snow take over, and your wipers are more important than ever. Therefore, replace your windshield wipers if they are getting older or falling apart, and make sure your wiper fluid is filled up too, since it can help break up snow and ice on your windshield.
Update Your Car's Emergency Kit
If you don't already keep an emergency kit in your car, you should! And if you do, check to see that you have items that are suited to winter weather. In addition to basics like a flashlight and flares, your emergency kit should include the following:
Washer fluid
Engine oil
Coolant
Ice scraper
Blanket
Extra boots and gloves
The sooner you execute these tips, the better, so get out there and start winterizing your car! You'll be glad you did.